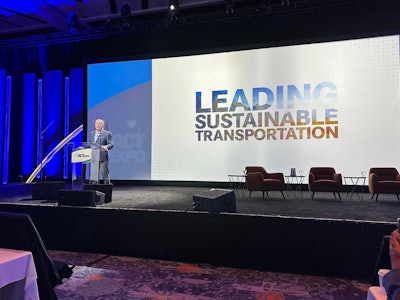 Angel Coker
Rakesh Aneja, vice president and chief of eMobility for Daimler Truck North America, has a photo of his children, niece and nephew set as the screensaver on his phone. He told an audience last week at the Advanced Clean Transportation Expo that the photo reminds him daily of the reason behind DTNA's efforts to go green: to make the world a better place for the coming generations.
At the Volvo booth in the expo hall nearby, Volvo Trucks North America President Peter Voorhoeve showed a picture of a young girl in nature. He said Volvo has a global target to reduce CO2 emissions by 50% by 2030 so children like her can experience the nature that is being affected by climate change.
John Rich, vice president and chief technology officer at PACCAR Inc., said in his ACT Expo keynote address that it was time to get past appealing terminology and onto action.
"We're facing a convergence of technology, regulation and climate change. You'll hear words like disruption and transformation and, my favorite, existential threat, like we're all dinosaurs waiting for the meteor to hit us," Rich said inside the Anaheim Convention Center near Los Angeles where ACT Expo experienced record attendance. "It's the people who have to get this done – people in this room. Let's stop using beautiful words; instead let's talk about how we're going to embrace the challenge and do our part in climate change, how we're going to improve the products using zero emissions technologies and, most importantly, how we're going to work together to make this transition possible for OEMs, dealers, suppliers and fleets."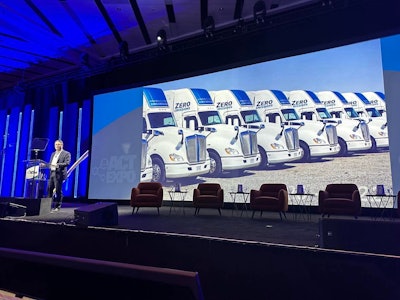 Together was a key theme at this year's ACT Expo.
DTNA partnered with NextEra Energy Resources and BlackRock Alternatives in a joint venture called Greenlane to design, develop, install and operate a U.S. nationwide, high-performance zero-emission public charging and hydrogen fueling network for medium- and heavy-duty battery-electric and hydrogen fuel cell vehicles. But DTNA President and CEO John O'Leary said his company's efforts, even in partnership, will not be enough to meet the targets set for this industry.
DTNA has calculated a $52 billion investment in charging infrastructure required to meet nationwide 2032 climate targets for medium- and heavy-duty vehicles alone.
"It's clear that we cannot do this alone, even with the strength of our three companies. It's clear we cannot do this alone as an industry," O'Leary said. "There are more than 3,000 different electric utilities in the United States. Together, with the regulators, they're focused on delivering cost-effective power to their customers. Understandably, those customers are unready to bear the brunt of rising rates to offset the cost of major infrastructure projects that they don't see as directly benefiting them. But to meet the requirements of regulatory action, to meet the ambitions of our nation and this industry, we need utilities to act now in order to create a bare minimum of operability."
[Related: California bans diesel truck sales as of 2036]
In his ACT Expo keynote address, O'Leary called to action government, private companies and utilities to come together to meet these needs. He said manufacturing and distributing electric vehicles as well as bringing down the total cost of ownership are only two parts of a three-pronged equation to facilitating industry transformation.
The third prong is infrastructure – another key theme at the conference.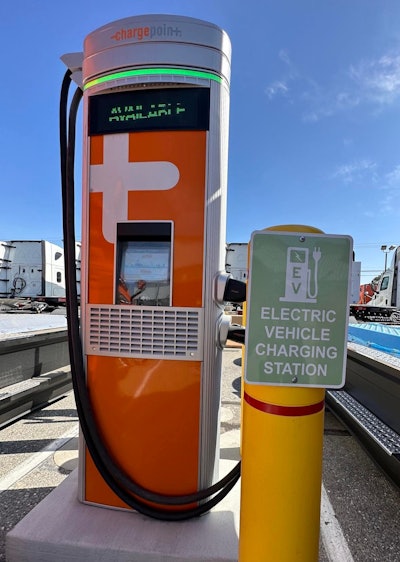 "What we're finding or, more importantly, what our customers can't find is the charging infrastructure to run these products. Infrastructure buildouts are flailing, and we're destined to fail to meet the ambitious goals of this state, of our country and the world until emphasis is put on meeting the charging needs of the electric fleet," he said. "If we ignore this reality, if we ignore the energy demand, if we ignore the differences in charging needs, we're going to find a lot of orphaned equipment sitting at depots or sitting idle on factory lots."
Like DTNA, Volvo has created a partnership to address charging needs. The company, along with Pilot Flying J, is working to develop a public charging infrastructure.
Rich said government also has an important role to play in partnership.
"Partnership (is) more important than ever because none of us can afford to do this by ourselves," said Rich of Paccar, which has partnerships with autonomous truck developer Aurora, Platform Science connected truck technology and Toyota. He said regulators will set the pace of transition to zero emission vehicles for the time being as operating cost is king, and the progress toward zero emissions is expensive.
Voorhoeve said it's a journey.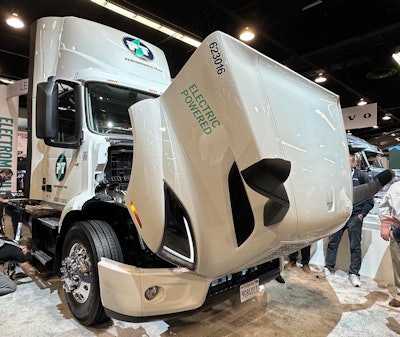 He said even with Volvo's plans to go to 50% CO2 reduction by 2030, that means the company will still use 50% diesel engines and continuously invest in cleaner and better diesel engines.
O'Leary said diesel-powered vehicles will not go away anytime soon.
"That diesel propulsion is incredibly efficient is undeniable; to say that it has propelled and that it will continue to propel us, our economies and humankind forward in immeasurably positive ways is undeniable; and to say that time for change is necessary is, similarly, undeniable," he said. "Despite diesel's many benefits and despite its many efficiencies, we need a future comprised of alternatives – alternatives that offer us, our customers and society cleaner choices.
"Whether battery electric, hydrogen fuel cell or hydrogen combustion, alternatives do exist, and for select applications, they can work today," O'Leary added. "But they are not the panacea we've been hoping for, at least not until we address the realities."