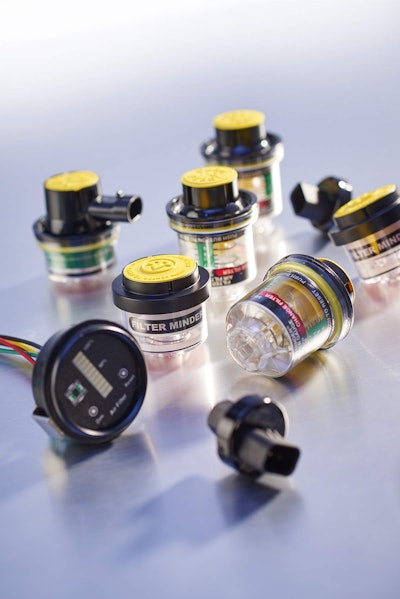 Donaldson Company is now offering Filter Minder indicators, gauges, switches and sensors through thousands of distributors in the U.S., Canada and around the world via the Donaldson Engine Aftermarket catalog.
Donaldson says Filter Minder products connect to air intake and fuel filtration systems, keeping tabs on filtration performance and life by communicating filter status visually, electronically and remotely. By adding these products to the company's Engine Aftermarket catalog, Donaldson says the entire heavy-duty channels now has greater access to the latest technology in filtration monitoring.
"Measuring and monitoring filter life in diesel powered equipment has always been important, and is becoming a higher priority as vehicles become increasingly connected with fleet management systems," says Keith Bechtum, general manager of Donaldson's Filter Minder business. "The information provided by Filter Minder products has significant benefits to both OEMs and end users, relaying ways to maximize equipment uptime, performance and productivity."
Today's vehicle monitoring systems help equipment fleets work more efficiently and meet increasingly tighter production schedules. The information provided by Filter Minder indicators allows maintenance managers to systematically plan filter changes and be aware of acute changes in restriction, helping their equipment operate more effectively and efficiently, Donaldson says.
Filter Minder technology also continues to be available to existing OEM customers and established distributors, as well as through the Donaldson Engine Aftermarket catalog. This catalog is available electronically at catalog.donaldson.com.