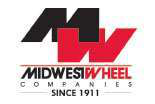 Mike Callison, President
John Minor, Vice President and Chief Operating Officer
Midwest Wheel Companies

Name Of Company: Midwest Wheel Companies
Website: www.midwestwheel.com
Founded: 1911
Owners: Fourth-generation owner Mike Callison, CEO and ESOP

Number of Locations: Seven in Des Moines, Clear Lake, Davenport, Cedar Rapids and Sioux Falls, Iowa, and Kansas City and Grandview, Missouri
Markets Served: Central Midwest, including Iowa, Missouri, Kansas, Nebraska, Minnesota, South Dakota, Illinois and Wisconsin
What is your business philosophy?
We work hard to bring the best solutions to our customers, quality products, on time delivery via our fleet of vehicles, a well-trained staff that will help them find the solutions to fit their company's needs.
Our technology allows us to offer first-in-class service, whether it's EDI, VMI or website use/design. These technologies allow us to expand into new solutions to efficiently bring the level of service our customers have come to expect from Midwest Wheel Companies.
What is the biggest challenge you face today?
Growing in new directions requires an exceptional amount of training and a focused team. This is a changing industry, we are focused on what the customer is asking for/needs/is using.
What are you doing to resolve that challenge?
We have developed new positions within our organization to focus on specific areas of our company. These field managers work with the suppliers and our customers, and they assist and train our sales staff and work with marketing to develop new opportunities.
What is your five-year vision for the company?
We will partner with more suppliers, increase our activity into service, continue to grow our fleet programs and look for new products that fit our distribution model.
What will you have to do to make that vision a reality?
We have developed our field manager positions to expand our HDA Truck Pride service locations and specific product directions that will drive our growth in the future.
What does your company do to excel in training?
Our training is the key to our success, from the first day a supplier meets our team they know how important having a well-trained staff is to our company. Through webinars and marketing flyers we achieve a steady flow of information from our marketing staff to our sales and customer service teams.
With our regular internal webinars we have suppliers join and train our staff, as well as targeted fieldwork, inside sales training sessions and two major sales meetings with our team every year. All of this training is focused on getting Midwest Wheel Companies ready for the future.
One of our most recent continuous improvement teams focus will be on training our inside sales staff. This cross-functional team is developing the training program for a company-wide training program for not only products, but things like phone use, policies, websites, etc.