The Heavy Duty Industry Hall of Fame Award and the Heavy Duty Distributor of the Year Award will be presented by Mark Seng of Polk and Co. and Truck Parts and Service magazine respectively at the Heavy Duty Aftermarket opening general session, which starts at 8 a.m. on Tuesday, Jan. 22, 2013 at The Mirage in Las Vegas.
"We are excited to be able to recognize the winners of both awards at the onset of the 2013 event and kick off the week by celebratingthe accomplishments of our industry's leaders," says Walt Sherbourne of Meritor, a co-chair of HDAW'13. "We sincerely appreciate our sponsor companies, Polk and Truck Parts and Services Magazine, for being a part of the annual awards tradition which honors great industry leaders that have made an enormous and positive impact on our industry."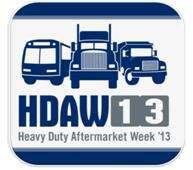 Last year, Richard Andrews of Stemco was presented with the HD Industry Hall of Fame Award and John Bzeta of Fleet Brake of Calgary, Alberta, Canada, and HDAW'13 co-chair Tom Stewart of Carolina Rim and Wheel were both presented with the HD Distributor of the Year Award.
"We are eager to find out who the recipients of this year's awards will be," says Stewart. "We always enjoy being able to celebrate the great works of industry leaders and provide them with recognition for all of their dedication and effort. It is very meaningful to feel appreciated by the industry we are all so dedicated to."
Heavy Duty Aftermarket Week is said to be the largest North American gathering of the independent heavy-duty aftermarket industry. More than 1,900 executives and managers from the U.S., Canada and six other countries – including distributors, suppliers, service providers, educators and industry media – attended the 2012 conference in Las Vegas.
For more information, go to www.hdaw.org, or contact W.T. Glasgow at 708-226-1300.