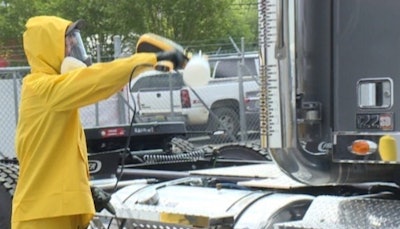 Some heavy-duty truck dealers are disinfecting truck cabs to help in the fight against the COVID-19 coronavirus pandemic.
Four Star Freightliner has been trained to perform disinfection and sanitization procedures recommended by the Center for Disease Control and Prevention.
When trucks arrive for service at any of Four Star Freightliner's seven locations, an employee wearing protective clothing uses a fogger to spray a botanical antimicrobial cleaner (BAC) with Noroxycdiff. The BAC solution, which has been approved by the Food and Drug Administration, kills 99.9 percent of all viruses, including coronavirus, within two minutes. Three to four employees at each location have been trained in the process.
The disinfectant is sprayed inside the cab, especially surfaces touched by the driver. The disinfectant is applied to the HVAC's fresh air duct and then the air conditioning is run on high for five minutes to distribute the disinfectant. Touch points on the cabs exterior also are cleaned. The process is repeated before the vehicle is returned to the customer.
"We did this to protect and keep our employees and customers healthy and safe," says Jerry Kocan, Four Star Freightliner dealer principal.
In addition to there being no charge to customers who bring in their trucks for repairs, the service is free to first responders in their ambulances and fire trucks.
Four Star's efforts don't stop at its locations. The dealership will go to customers' locations and do their entire fleet, offering different levels of cleaning at different prices. Kocan says Four Star also is selling the disinfectant to customers and training them on how to properly apply the BAC solution.
Several Freightliner dealers have called Four Star about its procedures and "we have helped them get up to speed as well so our DTNA Network can lead in keeping our employees and customers safe," Kocan says.
Eagle Truck Center offers a service to help combat the coronavirus and allay some of its customers' fears.
"We've added a disinfecting service for vehicles. If you're concerned about being exposed, we will send somebody over there, pick up the truck, do the service on it, completely disinfect the cab — all the handles, steering wheel, knobs, dash, etc. — and an employee will bring it back with gloves on so you know your truck has been disinfected," says Owner Keith Rutherford.
"We've always cleaned vehicles, but now we disinfect. We may end up starting to charge for disinfecting because it takes longer to do it. Jury is out on that right now. If it gets us business, we'll chalk it up as a cost and cover it with our sales," he says.