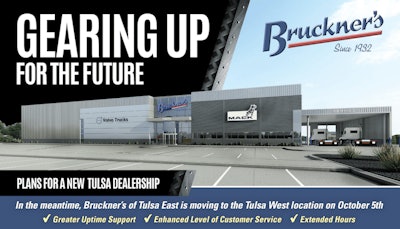 Bruckner Truck Sales, a Volvo and Mack Trucks dealer, announced the move of their Tulsa East operation to their existing Tulsa West dealership on Oct. 5, 2020, with future plans to break ground on a new facility in 2022.
Bruckner's of Tulsa West is located on 10 acres at 5301 West 60th Street South and allows for truck traffic access from I-44, Exit 222A. This combined facility will replace Bruckner's previous Tulsa location at 14001 East Admiral Place that has been serving customers since 2010.
Wondering who is going to win our Successful Dealer Award?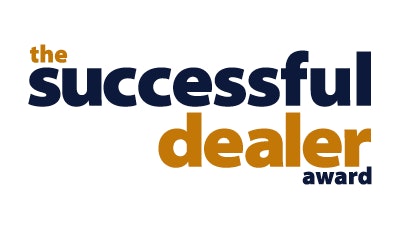 You are in luck. This year's award presentation will be held Nov. 19, and presented live through our website. Sign up now to have access to the event, and learn more about how to better serve your customers from our keynote speaker Al Barner of Fleet Advantage. Sponsored by Interstate Billing, National Truck Protection, Premium 2000 and TopMark Funding.
"With this move we will be able to offer greater uptime support, an enhanced level of customer service and extended hours," says Dale Yommer, general manager, Bruckner Truck Sales in Tulsa. "We will consolidate our new and used truck and trailer inventory, increase parts stock, offer alignment machine services, expand our all makes service offerings and continue providing truck leasing and rental options. We are excited for the future facility and what it will offer our customers."
Chris Bruckner, executive vice president, says, "The consolidation of locations gives us the ability to better serve our local and over the road customers. Having all of our Tulsa team members together allows us to have a greater depth in experience, be more efficient as a group and offer expanded services.
"This move also puts us at the location that will be the site of our new facility. We have begun our initial planning for the new building. We have many great customer partners in Tulsa and the surrounding areas. With this commitment in future building plans, we look forward to showing them how we will continue to be the best in supporting their truck, parts and service needs," Bruckner says.
The Tulsa West dealership will be open from 7 a.m. to midnight, Monday through Friday, and 7 a.m. to 3:30 p.m. Saturday, with 24/7/365 emergency call out service. Bruckner's will keep their original Tulsa West phone numbers: 918.446.5571 and 800.375.9305.