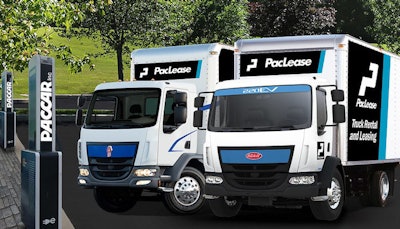 With the advent of electric trucks becoming a reality, PacLease is finding high interest from customers wanting to explore going green by leasing Kenworth and Peterbilt medium-duty cabover battery-electric trucks.
"It's been a very positive reaction," says Mike Willey, PacLease assistant general manager. "By being able to offer the full package — the trucks, financing and maintenance — along with charging stations through Paccar's collaboration with Schneider Electric and Faith Technologies — we can offer a turnkey package. A lease program with PacLease provides a great way to experience zero emission trucks for an all-inclusive lease payment."
PacLease offers Class 6 and 7 Kenworth K270E and K370E, along with the Peterbilt Model 220EV. Each features energy dense battery packs and, depending on the direct drive motor selected (355hp or 469hp), deliver between 100 and 200 miles on a full charge. Recharging can take as little as an hour.
Each new lease is very customizable with flexible lease terms up to six years.
"We're here to consult with our customers, from finding any state or federal grant money that might be available, to selecting the right truck and specs for the route intended, to placement of the charging stations," Willey says. "Our customers don't have to go-it-alone. We're here to make it all work seamlessly. We don't simply lease the trucks; we lease the program to ensure it all comes together without headaches down the road."
Willey says PacLease is finding a growing number of customers who are looking to go green and want to put their toe in the water to see how the trucks work and see if electric trucks can be a part of their future.
"We feel the best way to do that is with a full-service lease program from PacLease. It simplifies the process and ensures uptime with a fine-tuned maintenance program. We will work closely with our customers to ensure their entry into the electric truck era is a success," Willey says.
The e-trucks can be used in a variety of applications — spec'd as either a truck with multiple box configuration sizes available — or as a tandem axle tractor.
"Like all of our trucks through PacLease, custom spec'ing allows us to match the right truck configuration with our customers' application," says Willey. "It's no different with our battery electric Kenworth and Peterbilt models. They are built with the same rigorous quality standards of their diesel brethren. We're excited to begin leasing battery electric Kenworth and Peterbilt trucks."