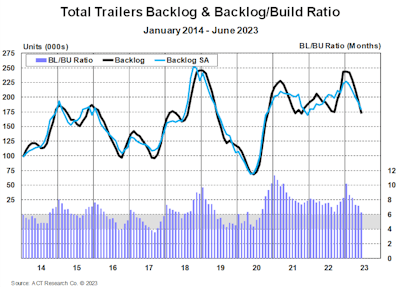 Are clouds on the horizon in the trailer market? ACT Research states in its State of the Industry: U.S. Trailers report this month that June's poor sales could be the result of seasonality but also could be indicative of a larger market shift.
ACT's Jennifer McNealy, director, CV market research and publications, says production outpaced orders as expected in June, dropping backlogs by 12% sequentially and 10% year over year. Dry van, reefer and flatbed backlogs were all down from May, as net orders slightly outpaced build.
"Despite the big sequential drop in trailer backlogs, the seasonally adjusted backlog-to-build ratio shed a modest 20 basis points, to 7.1 months in June from May's 7.3-month level and 8.5 months from last June. While lower, the current backlog essentially commits the industry into the beginning of 2024," she says.
On cancellations McNealy says fleet commitments were mixed in June.
"Total cancels dropped to 2.8% of backlog, from May's 4.2% rate. OEMs are still reporting that most cancellations are coming from the dealer network, although fleet and model-year cancellation-rebooks are being reported as the 2024 orderboards begin to open and slots get pushed," she says. "Conversations with industry stakeholders the past few weeks revealed that while they remain relatively optimistic about 2024, there was an acknowledgement of increasingly challenging conditions for customers and dealers."