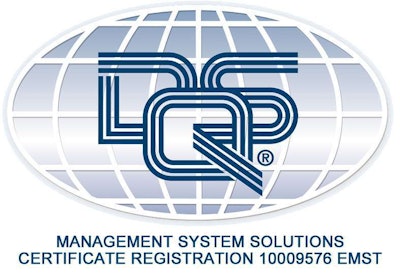 TMD Friction says the OE braking technology has been certified with the "ISO 50001 Certification for the Energy Management System" at its plant located in Querétaro, Mexico. As of 2013, this certification has only been obtained by 4,770 companies globally from all sectors, and only 34 companies in North America.
"This certification represents TMD's commitment to continuous improvement. As the global leaders in brake friction technology, we are always looking for ways to make our products better and more efficient while respecting the environment and conserving the resources," says Fabio Jurchaks, sales and engineering director, NAFTA, at TMD Friction.
Using energy efficiently helps organizations save money as well as helping to conserve resources and tackle climate change, TMD says.. ISO 50001 supports organizations in all sectors to use energy more efficiently, through the development of an energy management system (EnMS). ISO 50001 is based on the management system model of continual improvement also used for other well-known standards such as ISO 9001 or ISO 14001.
TMD adds that in its business, quality not only as a defined production procedure, but as an overall belief and behavior. Because of this, the continual improvement needs to be a daily process, not only inside the organization but also to the environment and society, the company says.