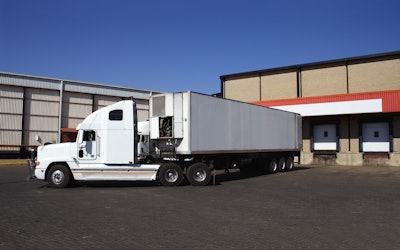 Overshadowed by California diesel emissions rules for bigger trucks are new rules for diesel-powered reefer units. An amended airborne toxic control measure from the California Air Resources Board (CARB) took effect last fall, and compliance deadlines will continue through 2029.
On their own, transportation refrigeration units (TRUs) don't seem like much of a concern. But CARB says in places where many TRUs congregate, the emissions from these units can be detrimental to people's health.
"These amendments will allow us to protect public health, especially in the most overburdened, disadvantaged communities where most of these transport refrigeration units operate," says CARB Chair Liane Randolph. "Moving forward, we expect to see increasing numbers of zero-emission units to continue making progress toward our air quality goals — reducing asthma, cancer risk and providing tangible public health benefits for California residents."
The earliest deadlines were Dec. 31, 2022, when all new reefer units were required to use refrigerant with a global warming potential less than or equal to 2,200, or no refrigerant at all. Also on Dec. 31, model year 2023 and newer TRUs had to meet an emission standard of 0.02 grams per brake horsepower hour or lower. The owner of the TRU-equipped truck or trailer must ensure the TRU is compliant, and CARB personnel are allowed to conduct a visual inspection.
In addition to these rules on refrigerant, fleets will be required to phase out 15% of their diesel-powered truck refrigeration units annually over seven years until none remain, says Bill Maddox, senior manager of product management at Carrier Transicold.
[RELATED: Carrier introduces new reefer units]
Maddox says his company standardized the R-452A refrigerant across their product line to help comply with CARB rules.
"R-452A has a global warming potential 45% lower than that of the traditional TRU refrigerant, R-404A," Maddox says. In some Carrier Transicold reefers, the process of replacing the refrigerant is as easy as a software update. "R-452A is nontoxic, nonflammable and delivers similar performance for a similar price compared to R-404A. Standardizing on lower GWP refrigerants is part of Carrier's commitment to reducing its customers' carbon footprint by more than 1 gigaton, while also achieving carbon neutral operations by 2030."
Starting Dec. 31, 2023, owners of refrigerated warehouses or distribution centers, seaport facilities and intermodal railyards greater than or equal to 20,000 sq.-ft., will be required to register with CARB, pay fees every three years, and report all the TRUs that operate at their facility. Grocery stores with a building size of 15,000 sq.-ft., or greater are also required to comply.
TRU owners will also be required to report all units, including those based out of state, that operate in California. Owners will be required to pay fees and affix a CARB compliance label.
Thermo King is working with OEMs to develop units integrated into electric trucks' chassis. Integrated units are available on Navistar's International eMV series, the Freightliner eM2 and Lion's LION 6.
[RELATED: Thermo King reefer unit wins Product of the Year award]
"Developing the next generation of cold chain technology, like the e1000 all-electric TRU for battery-electric Class 5-7 trucks, requires a deep understanding of customer needs and challenges," says Preeti Subramanian, senior product manager at Thermo King. "Through these partnerships, Thermo King has been able to help deliver a fully electric refrigerated truck to meet the customer's business and sustainability goals."
Maddox says Carrier also has units that can integrate with battery-electric vehicles as well as those that run on their own power pack.
"This makes them especially well-suited for fleets in California that are now required to begin adding zero-emissions TRUs, which may be installed on trucks with battery electric or engine driven powertrains," Maddox says.