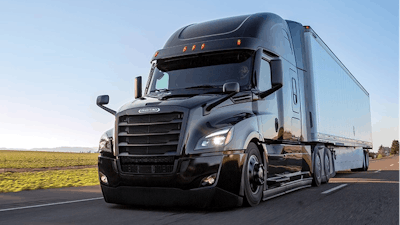 Class 8 orders fell below replacement demand in April, dropping falling nearly 40% month over month, FTR and ACT Research announced this week.
FTR pegs April preliminary Class 8 orders at 12,500 units, down 37% from March and 20% year over year. It was the sixth time in seven months orders have fallen. ACT Research's April estimate was even lower at 11,600 units, down 39% from March and 27% compared to April 2022.
FTR says Class 8 orders have totaled 298,500 for the previous 12 months.
In announcing their preliminary reports, both companies state a drop in orders was expected to occur, but at a slightly later date.
"Given robust Class 8 orders into year end, ensuing backlog support, and normal seasonal order patterns, orders were expected to moderate into Q2, we expected seasonally adjusted orders in a range of 15- to 20,000 units per month into mid-Q3," says ACT Research Vice President and Senior Analyst Eric Crawford.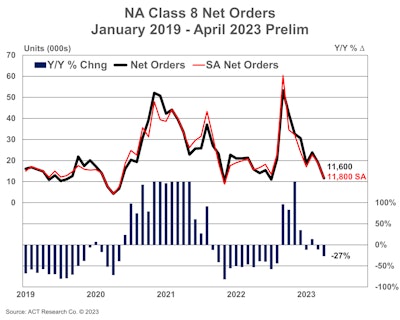 FTR adds the slowdown in orders is not a direct indication of the level of demand but rather is because build slots are filled for 2023. Reduced order levels will continue through the seasonally weak summer order period.
"When 2024 order boards open later this year, we anticipate some modest additional strength in order activity," says Eric Starks, FTR chairman. "There still are indications that fleets are requesting equipment, and there has been no notable uptick in cancellations. Once we see the full data mid-month we will have a better grasp on any changes in cancellation behavior."
Crawford says despite the low total and "increasingly cautious readings" from the ACT Class 8 Dashboard, the year to date seasonally adjusted average of 17,500 units remains "squarely in line with our view."
He adds, "The recent turmoil in the banking sector likely tightened credit conditions for some industry participants and may have played a factor in exacerbating April's weakness. Thus, while we expect orders to remain at subdued levels into mid-Q3 2023, we are not inclined to think April's order activity represents the likely run rate going forward."
[RELATED: Will used truck pricing dip below pre-COVID peaks?]
Starks also downplays the monthly slip.
"With build strong over the last several months, backlogs will have come down during April. The incoming order rate for March was 145,000 annualized, which is on par with the weak order levels during the summer of 2022. Despite the weakness, we do not anticipate much, if any, negative impact on production levels over the next few quarters," he says.
Orders were slightly better in the medium-duty space. ACT Research reported April preliminary orders for Classes 5-7 at 18,000 units. That is down just 10% percent from March and only 6% compared to April 2022.
"Medium-duty demand declined year over year by single digits, moderating after two straight months of double-digit declines," says Crawford.