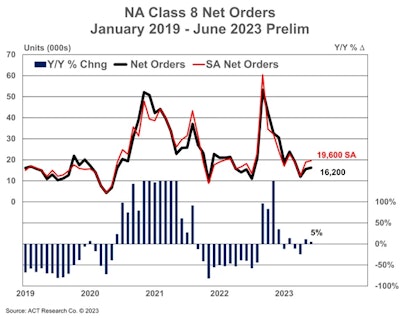 Truck orders remained in line with seasonal projections in June, ACT Research and FTR reported this week.
ACT Research reports preliminary Class 8 truck orders of 16,200 units; FTR's preliminary total was lower at 13,800 units. ACT Research's estimate was up 4% from May and 5% from June 2022 while FTR's total was flat month over month and down 7% year over year. FTR says Class 8 orders for the previous 12 months have equaled 297,800 units.
[RELATED: Class 8 orders bounce back in May]
"FTR has been anticipating net Class 8 orders to drop over the last several months to below 10,000 units. This has not occurred, which is a positive sign that fleets still need equipment. However, with all the order slots filled for 2023 and 2024 slots yet to be fully opened, it is unclear when these ordered trucks will be built," says Eric Starks, FTR chairman. "OEMs have hinted for months they are willing to keep build activity elevated well into Q4. With the recent solid order totals, it is all but guaranteed that Q4 production will be strong. OEM build slots for 2024 are not expected to open until August at the earliest."
ACT Research Vice President and Senior Analyst Eric Crawford adds, "Given robust Class 8 orders into year-end 2022 and the ensuing backlog support, coupled with normal seasonal order patterns, orders were expected to moderate into Q2 and remain at relatively soft levels into mid-Q3 2023. June orders were in line with this view, bringing the year to date monthly seasonally adjusted average to 18,200."
Crawford goes on to say the "relatively few" build slots still free in the second half of this year suggest order intake is "unlikely to find meaningful traction until 2024 order boards open."
[RELATED: Used truck sales prices continue downward slide]
Starks adds, "The normally weaker orders due to a seasonal mid-year slowdown coupled with strong build activity will keep shrinking backlogs. This will pull backlogs back into a normal range over the next several months as the backlog-to-build ratio is currently elevated and putting pressure on OEMs to keep building equipment."
In the medium-duty space, ACT Research says June orders were down 12% month over month to 17,700 units. That was up 2% year over year.
"The seasonally adjusted June intake, at 19,100 units, increased 2% year over year, equivalent to 229,000 units on an annualized basis," Crawford says.