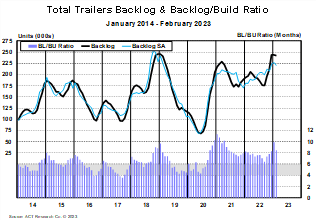 Following last week's update on the backlog to build ratio for commercial trucks, ACT Research reported its most recent analysis of the backlog for commercial trailers on Tuesday.
The company reports the backlog to build ratio fell from 9.9 months in January to 8.5 months in February. The company says this is number is more in line with recent industry averages, as the backlog has generally been in the 8 month range since the latter half of 2021.
"With most categories showing higher build in February, backlogs slid slightly, down 0.5% sequentially (but up 23% year over year)," says Jennifer McNealy, ACT's director of CV market research and publications. "The dry van backlog was 0.4% lower month over month, with reefers down 0.6%, and flats nearly 4% lower compared to January."
McNealy goes on to say despite some OEMs expanding availability, 2023 is not yet fully open, "partially because manufacturers are facing volatile commodity costs, long lead times for some input components, and improving but still challenging labor considerations, but also because OEMs are reluctant to overpromise and underdeliver on both price and timing."
[RELATED: ACT Research offers update on backlog to build ratios]
McNealy says trailer demand overall remains robust, but some OEMs have shared that discussions about market softening have begun though they have not turned into discussions about slowing orders or cancellations.
"Other OEMs told us they are seeing a few actual cancellations, but the cancel data is primarily a reflection of spec changes and plant rewrites," McNealy says. "Some smaller fleets and owner operators have cancelled orders, but large fleets remain eager to fill the void. OEM conversations also continue to suggest supply-chain constraints are likely to remain a limiting factor to production in 2023, with manufacturers mentioning a renewed fluctuation in materials costs, particularly steel, and continuing long lead times of some components."