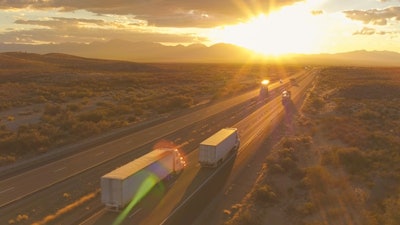 ACT Research announced Monday then doubled down in a second report Wednesday that OEMs are beginning to express mild concern regarding demand for 2024.
The company says trailer OEM and major suppliers have largely indicated stable business conditions over the past six months. April was in line with this trend, though ACT also indicates OEMs mentioned softer demand for 2024 and mixed concern regarding the supply of labor moving ahead.
"The seasonally adjusted backlog-to-build (BL/BU) ratio dropped 130 basis points month over month, to 6.9 months in April, from March's 8.2-month level. Seasonal adjustment takes dry van BL/BU to 7.1 months and reefers to 8.5, so either way one looks at it, with or without seasonal adjustment, and despite the improvement in build, this essentially commits the industry very close to year-end 2023," says Jennifer McNealy, director, CV Market Research & Publications at ACT Research.
ACT also note build per day rates were up month over month in April but slightly below March on a total basis due to fewer build days. Production growth continuing its upswing is a good sign for the rest of the year and overall market.
"OEMs are reporting that their orderboards for 2023 are fully open, with most booked through the end of the year, and we are hearing that some trailer makers are taking orders into 2024," McNealy says. "That said, several concerns are weighing on their minds, including the labor market, slowing demand into 2024, Fed hikes, business investment providing continued pressure on carrier profitability, recession risk, material supply availability and cost, and how all these factors are likely to impact dealer confidence."
ACT Research confirmed this assessment Wednesday in its Trailer Components & Raw Materials Forecast.
"Build in the last three months (February to April 2023) of 83,300 units, was more than 6% higher than the same three-month period last year, while net orders of 52,600 trailers was about 38% lower for the February to April 2023 period, versus the same three months in 2022," McNealy says. "Based on the same three-month comparison, backlog of 212,700 units this year was nearly 7% more than the 199,600 units pending production last year."
Vice President and Senior Analyst Eric Crawford adds, "for dry vans, especially, there is a strong case for a secular shift to higher trailer/tractor ratios by big fleets and the creation of trailer pools by mega-brokerages. At its core, this shift stems from a desire to raise productivity and reduce expenses in the brokerage space.
"In 2023, we forecast elevated build rates and relatively muted economic growth will cut into pent-up demand by [approximately] 25,000 units, leaving [approximately] 32,000 units of pent-up demand as we enter 2024. That said, we forecast pent-up demand will be more than satiated by year-end 2024, as our 165,000 dry van build forecast implies an over-build of 13,000 units."