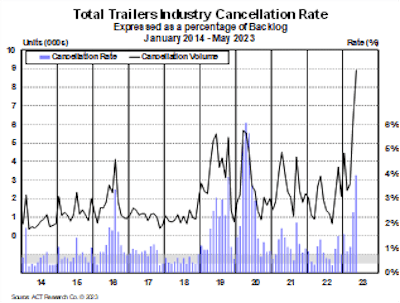 ACT says the trailer industry's sky isn't falling, but there are some dark clouds gathering.
Trailer cancellations are up for a second consecutive month, the research company says.
[RELATED: Trailer orders down again as cancellations rise]
"While the broad-based nature of cancellations suggests the turn is starting to come into focus, this is juxtaposed against a backdrop of rather robust backlogs, even with declining orders," says Jennifer McNealy. She's the director of CV market research and publications at ACT Research. "The seasonally adjusted backlog-to-build ratio (BL/BU) gained 12 basis points (bps) month over month, to eight months in May. Seasonal adjustment takes dry van BL/BU to 7.4 months and reefers to 9.1, so despite the improvement in build, this essentially commits the industry through year-end 2023."
McNealy says cancellations were mixed for May.
[RELATED: Trailer OEMs voice concern about 2024 demand]
"Total cancels grew to 4.2% of backlog, higher than April's 2.8% and significantly higher than March's 0.9% rate. That said, while several segments were at or below 1.5%, dry vans rose to 4.1%, reefers are now at 6.5% and flatbeds hit 4.7%," she says. "April's increase raised an eyebrow, but we cautioned that one month does not a trend make. With two consecutive (and large) jumps in cancellations, both eyes are now wide open."
McNealy says that some trailer makers are saying customers are trimming orders for this year and next and that fewer customers are waiting to pick up whatever slots become available.
"Clearly, the demand dynamic is shifting," she says.