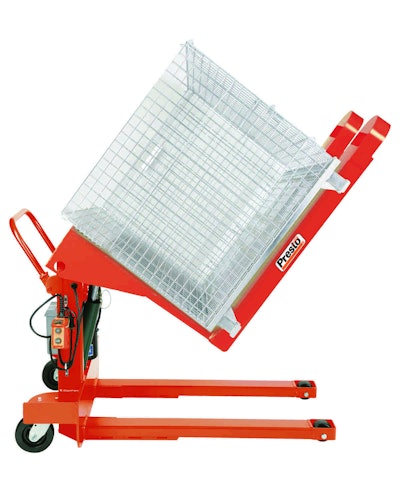 Presto ECOA introduces its PT Series Container Tilter.
According to the company, the new PT Series can tilt containers up to 85˚ degrees to allow workers to access contents without bending into the container. As containers tilt up, items, even those at the bottom, end up at a comfortable position for easy retrieval.
Presto ECOA says these portable, battery powered container tilters go anywhere they are needed making them ideal for applications that require sharing between multiple users or work cells, or where workers need to pick up and return containers to and from staging areas. They work with a variety of containers including wire baskets, plastic totes, and gaylords, the company adds.
Power is provided by a 12-volt maintenance-free, leak-proof battery with internal charger. Optional 115V AC or air motors are available. The company says tilt is controlled by a pushbutton pendant that allows operators to tilt the load to any angle between 0˚ and 85˚ degrees. The units push handle lowers when not in use further improving access to container contents. A foot operated floor lock keeps the tilter securely in position as items are being accessed, the company adds.
Additionally, the company says non-straddle (PT Series) units work with most standard containers or choose a Straddle (PTS Series) unit for use with containers that have reinforcing leg bars. Both configurations are equipped with 40 in., long forks, and 2,000 or 4,000 lb. capacities are available.