Distributor of the Year
Keep up to date on the independent aftermarket's highest honor
Learn how to move your used trucks faster
With unsold used inventory depreciating at a rate of more than 2% monthly, efficient inventory turnover is a must for dealers. Download this eBook to access proven strategies for selling used trucks faster.
Download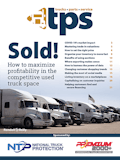 Products
Parts, components and accessories from OE and aftermarket suppliers
Maintenance
Trucking maintenance how-tos, articles, videos, and more for heavy truck dealers and independent aftermarket professionals on Trucks, Parts, Service.