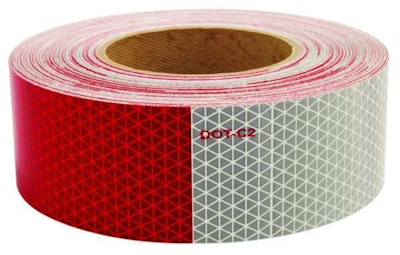 BettsHD has launched a new line of conspicuity tape that is compliant with DOT-C2, FMVSS-108 and NHTSA regulations.
The tape is made with a prismatic reflective surface that can be seen from longer distances and at higher intensities than glass bead designs, the company says, and polyester sheeting also resists cracking over time even with a wide range of temperatures.
"We are focused on providing high quality safety solutions for fleets and owner/operators," says Ed Powderly, BettsHD vice president of Sales. "Our customers now have the convenience to bundle our new conspicuity solutions with their mud flap hanger and fender orders."
BettsHD says the 150-ft. roll of conspicuity tape comes in three different styles: 11 in. red and 7 in. white; 6 in. red and 6 in. white; and all white. The new tape products comes with either a three-year, five-year, or a 10-year warranty. Betts HD says the 2010 FMCSA Compliance, Safety and Accountability (CSA) enforcement initiative delivers three-point violations for not meeting the minimum conspicuity standards.