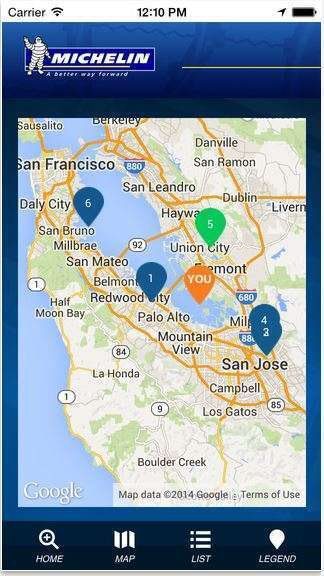 Michelin Americas Truck Tires has upgraded its dealer locator app.
The new app offers drag and drop capability, type ahead functionality, more search options and one-click-access to all key dealer information, the company says.
"This new app is designed to provide fleets and owner-operators with easy access to the Michelin products and services offered by our commercial truck tire dealers," says Bianca Hogan, U.S. country marketing manager, Michelin Americas Truck Tires. "With mobile and up-to-date information, the Michelin Truck Dealer Locator app allows users to easily locate the tires and services they need to run their operations and get their vehicles back on the road."
Powered by Google Maps, Michelin says the free app includes all Michelin commercial truck dealers across the country. The app is available through the iTunes App Store for iPhones and through the Google Play Store for iOS and Android devices. It is found by searching "Michelin Truck."
Users can search for dealers by location (address, city state and ZIP code) or by latitude and longitude. The search can then be refined to select the dealers with the specific products, services or network / service providers they need. There is new drag and drop capability so they can easily update their location by moving a simple icon. And, the type-ahead feature lessens the input required to get results. Users also can search by the desired location instead of their current location. Search results include all dealer details, omitting the need for numerous clicks, the company says.