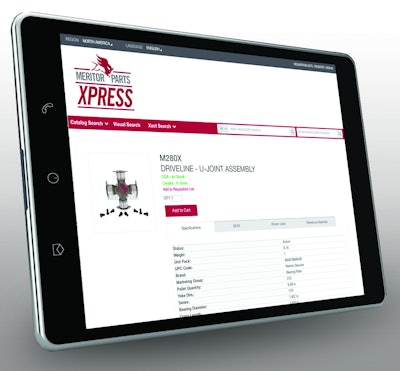 Meritor announced Tuesday major enhancements to MeritorPartsXpress.com that improve search functionality for more than 100,000 aftermarket products and offer new self-service tools to help North America customers bolster their operations.
"With these enhancements, MeritorPartsXpress.com becomes an even more important resource that will help warehouse distributors (WDs), manufacturers and dealers not only find parts more quickly but also assist them in making important business decisions to grow their businesses," says Brett Penzkofer, vice president, Aftermarket, North America for Meritor.
Meritor says customers can now use the e-commerce platform's new search tools to quickly configure, search and identify specific parts as well as check the inventory status of products at Meritor's four North America distribution facilities in Florence, Ky.; Santa Fe Springs, Calif.; Edmonton, Alberta; and Mississauga, Ontario. Updated search bars will deliver more accurate results and quickly identify specific, top-moving product lines, stocking levels and brand options. For a quick view of a product line, the website's new mega menu will show three levels of part categories in a single click, Meritor says.
Additionally, the company adds key authorized warehouse distributor customers will be able to create new guest accounts on MeritorPartsXpress.com to streamline ordering. A new online forms process will permit customers to return products without contacting customer service. Customized user account settings will include tools to create a personalized default landing page with a choice of price options and build Meritor-centric advertising containing their pricing. Distributors also can use a tool to monitor their spending, Meritor says.
The average number of site visitors per day has increased 65 percent since MeritorPartsXpress.com launched in April 2017.
"Customers are adopting MeritorPartsXpress rapidly, and based on usage and feedback, the platform is working well for them," Penzkofer says. "By continuing to increase functionality on the site, we're offering customers a more personalized experience along with valuable information, and we're making it easy to do business with Meritor."