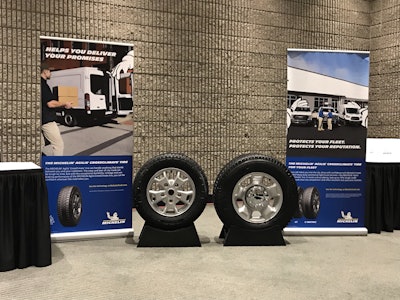 Michelin North America added to its commercial tire offering Sunday at ATA's Technology & Maintenance Council (TMC) Annual Meeting in Atlanta with the introduction of the Michelin Agilis CrossClimate — a tire designed specifically for ¾- and 1-ton pick-up trucks and vans used in commercial applications.
Scheduled to be shipped to distributors on April 1, Michelin Vice President of Marketing Adam Murphy says the Agilis CrossClimate addresses a segment of the market where there is a ton of growth. Murphy defines those segments as local delivery fleets, telecom and utility fleets, food and beverage delivery and trades, such as landscaping, electrical and more.
"This is an incredibly dynamic part of the market that is becoming more and more important as our economy continues to evolve," says Murphy.
Michelin says the Agilis CrossClimate tire is available in 16 light-truck (LT) sizes for passenger-vehicle platforms. Five C-Metric sizes are available for lighter-duty commercial vehicles such as the Ford Transit, Ram ProMaster and Nissan NV200.
Murphy says the Agilis CrossClimate tire is engineered with several key features, including an optimized tire footprint, wider and longer tread blocks, biting edges for improved wet and snow traction and sidewall protectors to resist curb scrubbing in urban environments.
Michelin says the C-Metric tire has a directional tread design, while the LT-metric uses a non-directional tread pattern. Murphy says the Agilis CrossClimate LT-metric tire lasts up to 19 percent longer under heavy loads and stops up to 21 feet shorter on wet pavement against leading competitors. He adds the C-metric tire stopped up to 24 feet shorter against its top competitors.
Murphy says the Agilis CrossClimate gives Michelin a "true, heavy-duty commercial truck tire that will meet the needs" of a growing market segment.