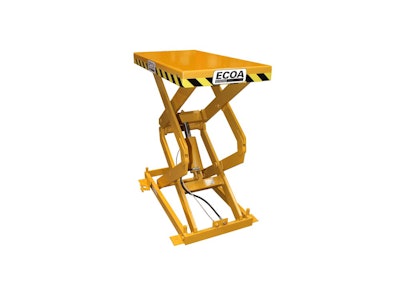 Presto ECOA Lifts introduces its CLT Series Compact Scissor Lifts.
According to Presto ECOA Lifts, these high-performance, industrial-duty lifts are available in a wide range of capacities including 2,000, 3,000, 4,000, 5,000 and 6,000 lb. They are ideal for a wide variety of work positioning, assembly, repair and inspection applications in manufacturing facilities, warehouses, repair shops and more. CLT Series lifts employ a double scissor mechanism that allows for a collapsed height of 8.5 in. while providing raised heights of up to 56.5 in. Lifting control is via a hand pendant or foot switch which operate a 0.75 HP motor that runs on 115V single phase power of 208/230/460V 3 phase power.
Presto ECOA Lifts says its standard platforms range from 24 in. x 36 in., up to 24 in. x 60 in. Larger platforms, up to 48 in. x 84 in. are available. CLT Series lifts also include cylinders with internal stops, lifetime self-lubricating, PTFE lined, composite bearings, retained base and platform rollers, and safety restraint maintenance bars.
Options and accessories that can be furnished with CLT Series Lifts include portability kits, bellows guards, special platforms (conveyor/ball transfer), limit switches, fork pockets, power upgrades and more, the company says.