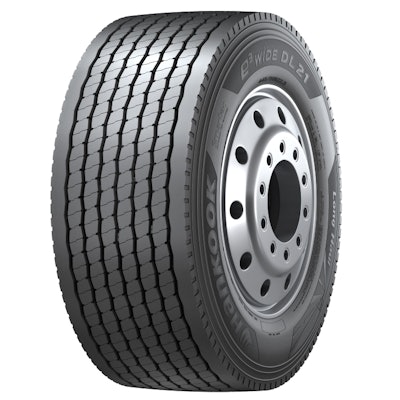 Hankook Tire introduces its latest ultra-super single drive tire to the company's truck and bus radial lineup.
Hankook says the all-new e3 WiDE DL21 boasts greater longevity and mileage over its predecessor, the DL07. Additionally, rigorous testing shows e3 WiDE DL21's a 2 percent increase in mileage and an impressive 10 percent increase in rolling resistance over its industry-leading predecessor.
The new e3 WiDE DL21 tread pattern also features Hankook's three-dimensional siping technology helping to increase the tires overall traction, lifespan and performance. The redesigned tread includes seven main grooves, reducing tread block cracking throughout its longer lifespan, the company says.
At the heart of the e3 WiDE DL21's improvements is Hankook Tire's innovative Smartec TBR technology. Smartec is an integrated manufacturing process combining the five main tire performance factors of Safety, Mileage, Anti chip-cut, Retreadability and Traction, the company adds.