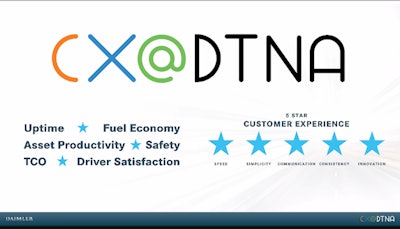 Daimler Trucks North America (DTNA) provided an update of its new customer experience (CX) organization Thursday.
Formally introduced last year, DTNA's customer experience organization has spent its first 15 months working to identify and remove the largest challenges dealers face each day that prohibit their ability to provide ideal customer service at all times, says Paul Romanaggi, chief CX officer.
Unquestionably a tall task, Romanaggi says DTNA's CX team started making headway on its goals when it determined four key areas where improvements throughout its dealer channel would have clear downstream benefits for its end user customers. He defined those areas as:
Speed – How quickly the company responds to customer problems with solutions;
Consistency – How to ensure those solutions are the same for all customers and at all dealer locations;
Voice of the Customer/Dealer – How DTNA can listen to its partners to develop these solutions; and
Balance – How to remain focused on the needs of today without forgetting to focus on the problems of tomorrow.
Since identifying these areas, Romanaggi says DTNA has created a "core four" strategy that it believes will comprehensively improve customer experience across its dealer channel and create a standard of customer service that is necessary in today's competitive business environment. He lists the core four strategies as Measurement, Improvement, Culture and Digital, adding if DTNA can positively implement all four, the company's dealer network will unquestionably improve.
"We all know [this business] is about uptime. It's about making the customer happy at the end of the day," Romanaggi says.
DTNA's Measurement efforts have been focused around acquiring customer and dealer feedback so as to better understand the company's current customer service performance and potential areas of improvement. Improvement has rightfully followed, as the company works to use the data provided through Measurement to develop processes that will improve OEM and dealer capabilities.
On that note, Romanaggi says customers are generally willing to provide feedback a first time when asked but will not continue to provide feedback if they believe what they provide falls on deaf ears. So, he says DTNA is working tirelessly to ensure every note it receives from the fleet community is analyzed and understood.
Romanaggi says he doesn't want customers to question DTNA's CX initiatives, making statements such as, "Are they really going to do something about it? Are they really going to change?"
Regarding Culture, he adds the company's efforts have been focused on downstream education both at the OEM and dealer channels. He says the reason is obvious — optimal customer service isn't possible unless everyone within a business knows how to engage and properly help customers. And Digital, Romanaggi says, should help with that. He says that core four strategy has predominately been focused on using information and data acquired during service events, regular customer interactions and Measurement efforts to create best practices and action plans to speed up customer requests.
"We want to turn data into information we can use in real time with customers," he says.
And each within each core four strategy Romanaggi says DTNA has developed countless individual efforts to strengthen its customer service efforts.
To address unnecessarily long wait times customers can encounter at the beginning of non-warranty repairs, DTNA has rolled out a $1,500 pre-authorization option that enables dealers to immediately start service work for certain repairs. The company also underwent an audit of its parts ordering and stocking processes with its dealer managed inventory provider to better optimize parts on-hand in service shops, and continues to strengthen its existing PDC and delivery network to ensure when parts are ordered, they arrive promptly.
Then there's the matter of customer communication. A new team of corporate fleet service managers has been developed to serve as a liaisons between large customers and their dealer counterparts, while in-store customer advocate managers provide a similar service between vehicle owners and the many departments within a dealership. The latter Romanaggi describes as the "one stop for all of a customer's needs with their dealer."
Successful as these efforts have been thus far, Romanaggi admits DTNA still has plenty of work ahead to achieve its ultimate customer experience goals. Yet if these 15 months are any indication, he's optimistic they can be reached.
"We've brought our organization much closer to the voice of the customer," he says.