Coxreels Designs Wand Holder for Reels
Coxreels' wand holder for its 1125 Series hand cranks and motorized reels is constructed of strong, lightweight aluminum, with a black powder-coating finish for added corrosion resistance.
The wand holder is 24 inches long with a 1.6-inch diameter, making the accessory suitable for storing pressure-washing guns and other spraying devices directly on the reel.
The design allows for easy mounting on all four reel locations, including the left, right, front and rear sides of the A-frame base of the 1125 Series reels. The wand holder includes rust-inhibiting stainless-steel mounting hardware.
Coxreels
Visit tpsdigital.com/info

Larson Releases Explosion-proof LED Hand Lamp
Larson Electronics' Magnalight division has released a 2-foot-long explosion-proof hand lamp suited for hazardous locations. The EPL-FL1524-LED series offers vibration-proof operation, 50,000 hours of bulb life and five times the light output compared to standard 15-watt fluorescent alternatives.
The hand lamp, equipped with a tube-style LED T series bulb, is available with cord lengths ranging from 25 to 100 feet and can be equipped with standard straight-blade plugs or a variety of explosion-proof plugs.
Larson Electronics
Visit tpsdigital.com/info

Continental Designs HSR2 Eco Plus Fuel-efficient Medium-duty Steer
Continental Tire the Americas' HSR2 Eco Plus is a fuel-efficient medium-duty steer tire for hybrid highway and regional applications. The company said the HSR2 Eco Plus, when tested with typical loads for this application, showed a 15 percent improvement in rolling resistance over its HSR2 regional steer tire, translating to about 3 percent greater fuel economy.
The HSR2 Eco Plus, available in size 275/80/R22.5, uses a fuel-efficient compound and has a four-rib tread design that helps improve rolling resistance.
The HSR2 Eco Plus incorporates a protective curb rib for high-scrub applications, groove geometry that helps reduce cracking and tearing, and the company's proprietary VAI-plus system of visual alignment indicators that also demonstrate the tire's tread depth. The tire, which has been verified by the U.S. Environmental Protection Agency's SmartWay Transport Partnership as a low rolling-resistance truck tire, also is able to handle diverse conditions such as potholes and curbs that often can lead to tire damage.
Continental Tire the Americas
Visit tpsdigital.com/info

Solv-Tec Offers Cooling System Leak Repair Product
Solv-Tec announced its new K-Seal HD is a quick, easy way to make permanent repairs to heavy-duty truck cooling systems. The company said the product's unique ceramic-copper formula mixes with all types of coolant.
To use, Solv-Tec said, just shake the bottle and add the contents to the engine coolant in any gas or diesel engine. Once the product has entered the cooling system it takes just minutes to make a high quality ceramic repair after the engine reaches working temperature.
K-Seal will stop most leaks in the block, head, radiator, heater matrix, freeze plugs and the head gasket, according to the announcement.
One 16-oz. bottle treats cooling systems up to 50 qts. capacity. K-Seal will not block or damage the cooling system, the company said, and once K-Seal HD makes a repair, Solv-Tec offers a 100 percent money back guarantee that the repair is permanent.
Solv-Tec
Visit tpsdigital.com/info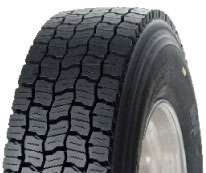 Bandag-brand Trailer Tread Promotes Long Tread Life
Bridgestone Bandag Tire Solutions' Bandag-brand B197 trailer tread is patterned after the Bridgestone brand R197 trailer radial for fleet customers seeking a seamless choice of new tires and retread designs.
The B197 tread, built for long life, combines innovative compounding and a classic straight-rib tread design, Bandag's longest-wearing 11/32-inch-depth product, facilitating added cost per mile.
The Bandag B197 is available in sizes that fit most trailer tire casings: 210mm, 220mm and 230mm.
Bridgestone Bandag
Tire Solutions
Visit tpsdigital.com/info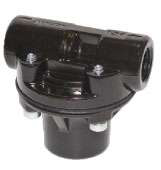 Haldex Introduces New Family of Pressure Protection Valves
Haldex Commercial Vehicle Systems introduced a new family of Pressure Protection Valves suited for the North American market. The new design standardizes three of the most popular pressure settings for both a base Pressure Protection Valve and a Pressure Protection Valve with a one-way check, the company said.
According to Haldex, its Pressure Protection Valves feature:
* E-coated zinc die-cast bodies for exceptional corrosion resistance;
* Premium Nitrile diaphragms for long life and reliability;
* Durable designs to increases life and reduce replacement costs; and
* Designs for use in air suspensions, air seats and cab isolation systems.
The pressure protection with one-way check valve prevents reverse air flow and has exceptional corrosion resistance, the company added.
Haldex Commercial Vehicle Systems
Visit tpsdigital.com/info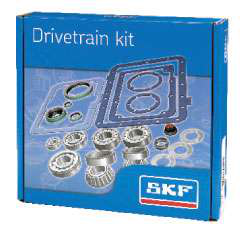 SKF Offers Lineup of Differential, Transfer Case and Transmission Kits
SKF announced it now provides a complete line of differential, transfer case and transmission kits for automotive, light-duty and commercial vehicle applications. The lineup provides extensive coverage for the most popular applications and each kit contains all of the components needed for a complete system rebuild, including high-quality bearings, seals and gaskets (where applicable) that meet or exceed OE specifications, according to the announcement.
The new kits include more than 200 part numbers and each are shrink-wrapped to white boards to resist rust, increase component service life and reduce occurrences of missing components.
"The new SKF differential, transfer case and transmission kits provide rebuilders with the components needed to complete a repair job in one convenient kit," said Doug Fike, product manager, heavy duty, SKF. "We're pleased to offer a complete product line in this market and will continue to provide products and services that offer quality, performance and convenience for our customers."
Additionally, the company said, a new part number system makes ordering and stocking easier – the prefix "SDK" refers to SKF differential kits, the prefix "STCK" refers to SKF transfer case kits and the prefix "STK" refers to SKF transmission kits.
Standard SKF differential kits contain all the components needed for a complete repair, including: pinion bearings; differential bearings; pinion seal; pinion nut; crush sleeve (where applicable); gear making compound and brush; and thread locker and silicone sealant.
In addition to the standard SKF differential kit, SKF offers master differential kits. The master differential kits include all the components of the standard kit, along with pinion shims (where applicable), pinion adjusting shims, differential shims and ring gear bolts.
SKF
Visit tpsdigital.com/info