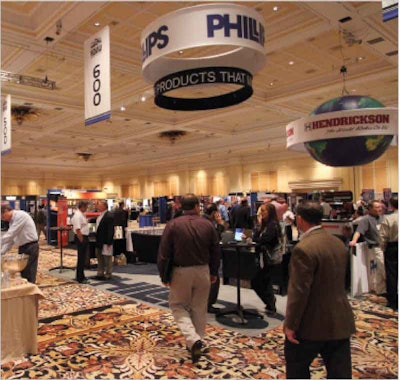 The 2011 HDAW Product Showcase
Under the theme "Leadership Strategies For Tomorrow," Heavy Duty Aftermarket Week 2011 takes place this month in Las Vegas where it is expected to draw thousands of aftermarket distributors, suppliers, shop owners and other industry professionals.
Featuring forums, workshops, business sessions and one-on-one meetings, HDAW brings together all stakeholders in the heavy-duty aftermarket distribution channel. HDAW is organized by the Heavy Duty Manufacturers Association (HDMA), the Commercial Vehicle Solutions Network (CVSN) and the Heavy Duty Distributors Association (HDDA), and is governed and planned by a joint operating committee comprised of representatives from more than a dozen different associations and groups.
Of course, HDAW also serves as a showcase for the latest aftermarket products and services as presented by hundreds of show exhibitors. The following companies will be exhibiting at the show and are featured sponsors of this year's Truck Parts & Service HDAW Product Showcase.

Spray Suppression System Technology
Recent economic pressures on the heavy-duty trucking industry had no effect on Betts Spring Company's dedication to innovation. Relentless pursuit of design efficiency focused on the wants and needs of fleet operators has delivered the most significant improvement to spring loaded mud flap hangers in the past decade. Betts is proud to introduce its Smart solution.
This game changing product enhancement delivers simple and safe installation, reduced weight, maximum deflection properties without damage to the hanger and proprietary spring technology designed to maximize corrosion resistance and satisfy the high quality standards that fleets expect.
Our exclusive tapered and self-centering tombstone remains unrivaled by any competitive solution, ensuring safe and functional operation throughout the product life cycle. We are proud of our Made in America heritage and trust you will continue to make the Smart choice: Betts.
Betts Spring Co.
Visit us at HDAW Booth #626
Visit tpsdigital.com/info

Betts Flexible Hanger System with Aero Guards
Betts Spring Company and Spraydown USA announce the industry's first mud flap retention system featuring aerodynamic spray suppression called DIRECTFLEX 2 with SPRAYDOWN.
Proudly made in the United States, this innovative system delivers proven fuel economy, safety and performance for the heavy-duty trucking industry.
* Fuel Savings: SPRAYDOWN's aerodynamic guard design delivers fuel savings approaching 4 percent in certified tests over economy mud flaps.
* Highway Safety: Unlike economy flaps that deflect water spray to the sides of a vehicle, SPRAYDOWN is engineered to control spray. By separating air and water, SPRAYDOWN directs up to 98 percent of water down to the road, lowering spray out of the driver's line of vision.
* Reliable Performance: The DIRECTFLEX 2 Flexible Hanger System combines BETTS strength and reliability to deliver a proven flap retention solution where maintenance is virtually non-existent.
Betts Spring Co.
Visit us at HDAW Booth #626
Visit tpsdigital.com/info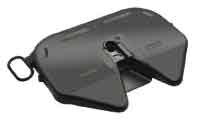 Fontaine Fifth Wheel Introduces Industry's Lightest-Weight Fifth Wheel Slider System
The compact Ultra LT is as light as an aluminum fifth wheel, with the additional strength, durability and cost-effectiveness provided by its steel construction. Due to the significant weight savings, the Ultra LT is the ultimate replacement fifth wheel slider system on the market today.
Are you looking for weight reductions to offset heavy emission system components and to improve fuel economy? The Ultra LT offers weight savings of up to 100 lbs. or more over other fifth wheel systems, making cost per pound very attractive to fleet and owner-operators.
The Ultra LT is offered as a complete system that includes the top plate slide assembly. The Ultra LT system is for use in on-highway applications only, including highway tanker operations.
Like all Fontaine fifth wheels, the Ultra LT features a patented lock design that eliminates the possibility of false trailer couplings to prevent dangerous high hitching. A patent is also pending on the fifth wheel's secondary lock. Air actuation with in-cab air release (operable only when parking brake is engaged) is available.
The Ultra LT fifth wheel offers a vertical load of 50,000 pounds and a drawbar pull of 150,000 pounds.
Fontaine Fifth Wheel
Visit us at HDAW Booth #315
Visit tpsdigital.com/info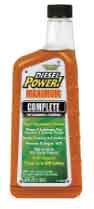 Diesel Fuel Additive
DieselPower! Complete diesel fuel additive is the complete solution for diesel fuel issues. DieselPower! Complete prevents gelling down to -40°F and reduces cold filter plugging point by 26°F. Complete also includes cetane booster to improve mileage and power. Of course, all DieselPower! products clean and lubricate the entire fuel system. DieselPower! Complete comes in both concentrated (1:960 treat ratio) and super concentrated (1:1500 treat ratio) versions to meet the needs of both over-the- road and local fleets with terminal fueling.
Concentrated Complete is available in 20 oz. bottles treating 150 gallons and 40 oz. bottles treating 300 gallons. Super concentrated Complete comes in 1-, 5- and 55-gallon sizes treating from 1500 gallons to 82,500 gallons.
DieselPower!'s product line also includes other great performance improvers like Fuel Injector Cleaner, Anti-Gel, Cetane Boost and Air Brake Anti-Freeze. For more information about Complete and the other great DieselPower! products,
visit www.diselpowerus.com.
Gold Eagle
Visit us at HDAW Booth #1229
Visit tpsdigital.com/info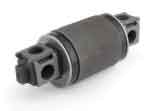 Hendrickson's Rotating End Bushing
Designed with a commitment to quality and innovation, the new Rotating Bar Pin End Bushing is the latest development to provide many benefits for both the installer and truck owner. Once pressed into the beam, the new rubber end bushing can now be rotated to the correct angle for a perfect installation the first time…every time. The bushing becomes fixed at the required angle when the installation is completed properly and will not continue to rotate once the truck is back in use.
The new design features:
* Hendrickson's genuine, high quality, natural rubber product with a hardened steel bar pin;
* Saves time and labor costs by eliminating re-work from incorrectly installed bushings;
* No need to mark the old bar pin position prior to removal;
* No clocking necessary during bushing installation;
* Ease of axle installation; and
* Seals.
Hendrickson
Visit us at HDAW Booth #620
Visit tpsdigital.com/info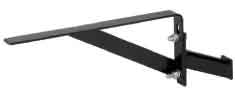 Universal Adjustable Center Bracket
Life-Time Fenders introduces its B900 universal adjustable center bracket for mounting half and full tandem fenders. The B900 mounting bracket has 3-½ inches of vertical adjustability, easily the broadest range of vertical positioning designed to both ease and simplify fender installation.
The B900's unhanded design eliminates multiple part numbers, an appealing feature to fleets and distributors alike resulting in fewer part numbers and associated stock investment, continuing a Life-Time Fenders' tradition of providing sensible and cost effective solutions.
The gloss black E-coat finish delivers attractive, enhanced corrosion protection and at 10-¾ pounds the B900 is ten percent lighter than competitive fixed or adjustable bracket alternatives. The B900 is packaged individually (with fender attachment hardware) and also is included in each and every Life-Time universal fender installation kit. As with all Life-Time products, this industry standard Universal bracket is supported by a lifetime warranty.
Life-Time Fenders
Visit us at HDAW Booth #626
Visit tpsdigital.com/info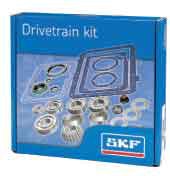 Differential And Transmission Kits
SKF now provides a complete line of differential and transmission kits for light-duty and commercial vehicle applications. Providing extensive coverage for the most popular applications, each kit contains all of the components needed for a complete system rebuild, including high quality bearings, seals and gaskets (where applicable) that meet or exceed OE specifications.
The new line of SKF differential and transmission kits includes more than 200 part numbers. The products in each SKF kit are shrink-wrapped to white boards, ultimately designed to resist rust, increase component service life and reduce occurrences of missing components. Additionally, a new part number system makes ordering and stocking easier — the prefix "SDK" refers to SKF differential kits and the prefix "STK" refers to SKF transmission kits.
SKF
Visit us at HDAW Booth #705
Visit tpsdigital.com/info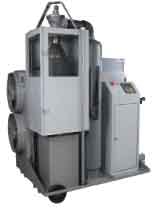 Diesel Particulate Filter Cleaner
The Diesel Particulate Filter (DPF) Cleaner was designed with shop service in mind. The patented cleaning process allows the DPF to be cleaned as part of a general maintenance schedule at the service location with minimal time away from the vehicle. Its portability allows the unit to be placed as close to the vehicle as possible and to be stored wherever needed in the service facility.
Product features include:
* OE tested and dealer recommended.
* Robust design ­— For long shop life. Can be used as part of a preventive
maintenance program.
* Patented High Pressure cleaning process for thorough cleaning of ash from
DPF — Produces 10 times the burst energy of competitive low pressure units.
* Movable with locking wheels — For placement throughout the shop.
* HEPA Filter Air Exhaust System — To exceed environmental air standards for shop.
* Proven to clean to over 92 percent efficiency.
See also the OTC 5281 DPF Thermal Processing Unit.
SPX
Visit us at HDAW Booth #1101
Visit tpsdigital.com/info

Proprietary Freightliner Parts Available
Newstar, a subsidiary of S & S Truck Parts, Inc., now carries proprietary parts for most popular Freightliner trucks, including suspension, steering, body parts, as well as interior cab and engine components. All parts are 100 percent interchangeable with OEM equivalent.
S & S Truck Parts, Inc.
Visit us at HDAW Booth # 1113
Visit tpsdigital.com/info