A Look At Rotating Electrical
Emissions and environmental regulations are playing a role in the remanufacturing of rotating electrical components.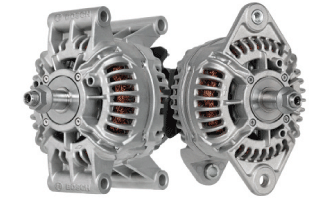 Remanufacturing is a vital part of the truck parts aftermarket. Truck Parts & Service has launched a year-long series on the subject of remanufacturing.
This issue's installment contains information from Tony Kurlan, sales and marketing manager at Mitsubishi Electric Automotive America; Eric Bippus, senior vice president of global aftermarket sales and marketing at Delco-Remy; and Fred Padgett, group product manager, rotating electrical, Bosch Automotive Aftermarket, North America.
TPS: What is involved in the remanufacturing of a rotating electrical component for a medium- or heavy-duty truck?
Kurlan: We first inspect cores to make sure they are genuine and not previously rebuilt. We then teardown the core, scrap parts that are to be 100 percent replaced and clean the remaining components.
All recovered parts are then visually inspected and tested to their original OE specifications; they are assembled, and then undergo a final unit inspection — again to original OE specs.
Should a unit fail final inspection, it is reworked and the necessary components replaced, then retested. Only those units that pass all stages of inspection are offered for sale.
Bippus: All remanufacturing starts with the core and the original unit. The quality of the core has a lot to do with the overall outcome.
We focus on stripping the core down and testing 100 percent of all sub-assemblies and assembly units. We test each component to get it back to the original equipment specification.
The output of the particular starter or alternator is important — we cannot have any degradation of the original unit's performance. Any core that falls below the OE specification is discarded. All of the electrical units have to maintain that original specification of amps and units.
Padgett: Basically the remanufacturing process for heavy-duty rotating electrical products is very similar to that required for automotive units.
However, due to the nature of the environment in which heavy-duty units operate, the replacement rate of old components with new is often much higher than it is with automotive units.
In diesel engines, critical components such as regulators, rectifiers and bearings receive much more stress in the way of heat, vibration and mileage during their lifetime. For these reasons, these components may wear out and not meet specifications for reuse.
TPS: Are there any new developments in rotating electrical remanufacturing?
Kurlan: The process continues to evolve, with different cleaning techniques. We've migrated from the use of solvents to only eco-friendly washing solutions, and recover used shot for recycling.
While there have been great improvements in componentry, the basic pieces still are the same.
Bippus: The simple answer is yes. From a process standpoint we've learned things. It all starts with the processing of the core. We have developed methods to get cores to a manufacturer quicker and that allows us to get them into the remanufacturing process and back to the end users quicker.
Padgett: In the last 15 years, the market for heavy-duty reman starters and alternators has shifted dramatically — for several reasons. First, fleet maintenance managers and owner-operators are demanding longer service life from replacement parts. Second, new technologies have been developed that can't be [used] with older units and, third, efficiencies and economies of sourcing high-quality products in a global marketplace have helped make all-new starters and alternators more cost-competitive with remans without the need for core returns
TPS: Have emissions regulations had an impact on the way rotating electrical components are remanufactured?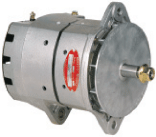 Kurlan: Over the years, the emissions regulations have grown increasingly tougher. These evolving regulations have resulted in the use of non-VOC paints and the discontinuance of solvents. Not only do we have to comply with EPA regulations, but we also operate under the much more challenging rules of the SCAQMD (South Coast Air Quality Management District).
Bippus: Regulations have changed the way we design the original product alternators. In remanufacturing, it has changed the types of components we use. The under-hood temperatures these components deal with are much higher than they were in the past, and that's something we have to deal with.
Padgett: Emissions regulations for heavy-duty vehicles that started going into effect in 2010 have greatly increased under-hood operating temperatures. Heat stresses the sensitive components of alternators and makes the products fail earlier.
It also increases component wear so that more components have to be replaced in the remanufacturing process now than before the emissions laws changed.
TPS: What are the benefits of a remanufactured rotating electrical component?
Kurlan: The savings to the environment (going green), along with the lowered cost of the recovered component, are the greatest benefits — both on the component level and the finished good level. Less energy is used in the remanufacturing process than during the original manufacturing process, and the savings to the nation's landfills is huge.
Bippus: It's good for the environment. If you can reclaim 60 to 70 percent of the products and the metals used in the core, then that's something that doesn't have to be mined and that's good for the environment. Then there is the cost savings. Reman allows us to provide the end-user an OE-quality option that is much cheaper than the product was when it was new.
Padgett: Historically, the single most obvious benefit has been cost. But in recent years, the gap between the cost of reman and all-new units has closed dramatically.
TPS: In what types of operations or for what types of customers does a remanufactured rotating electrical component make sense?
Kurlan: Remanufacturing makes sense for almost all rotating electrical units. We reman starters, alternators and distributors. As long as the components meet the OE specification, they can be used more than once in the life cycle of the unit.
Bippus: Any fleet operation with a significant amount of rotating electrical components in service is going to want to look into remanufactured components.
Very often with reman products we can design out original flaws and make improvements to components. With those improvements, it becomes a highly viable option for most fleets.
Padgett: Remanufactured products provide a good quality level at a very attractive price point, as an alternative to more expensive new units.
TPS: How do remanufactured rotating electrical components fit into a distributor's parts strategy?
Kurlan: Remanufactured units allow distributors to offer OE remanufactured units to the aftermarket at a cost less than a new unit might carry (if that unit was even available for sale outside the dealer channel). This assures the end user that the unit is remanned to OE specifications, using only OE replacement parts.
Bippus: Delco-Remy's market strategy is a good, better, best strategy for [part] sales. We have new products for those end users and fleets who have new trucks, and then for those slightly older trucks there is a remanufactured option and the OE part. Then we also have remanufactured options that can provide more power for a truck.
As these heavy-duty vehicles are asked to do more and handle more electrical [processes], that remanufactured product gives the fleet another option and adds to the distributor's product listing.
Padgett: The Bosch [aftermarket] product range has been specifically designed to incorporate all of the design features of the older units, while making the latest technology available. This ensures that not only will the unit fit the truck properly with no modification required, but that it also will perform better than the original unit did when the truck was new.
TPS: Does the aging truck population present opportunities for remanufactured rotating electrical components?
Kurlan: The longer a vehicle stays in service, the greater the opportunity to provide remanufactured product. As engines keep getting better and lasting longer, the need for replacement rotating electrical products increases.
We feel confident that rotating electrical products can be remanufactured more than once.
Bippus: Yes. The average age of a truck fleet in North America is at 6.9 years. As trucks are getting older how they are serviced may change. If a person knows they are only going to keep a truck in service for a few more years, they may not want to use a new component and that's where reman parts become valuable. That person can get an OE-quality part for significantly less cost.
Padgett: Actually, the aging truck population makes a more compelling case for all-new units. As vehicles age, the number of "rebuildable" cores declines, and the design of the original units becomes more obsolete. All-new starters and alternators with their advanced features, higher output and longer life, become the most cost-effective choice.
TPS: What do you see in the future for remanufactured rotating electrical components?
Kurlan: We see a great future for the remanufacturing business, whether it be rotating electrical or engines/transmissions or other products. As vehicles are kept on the road longer, the need for quality replacement parts will increase — and we feel that genuine remanufactured replacement parts are the best way to go.
Bippus: I think remanufacturing has a very bright future. Through the reman process you are able to take an original core and design into it the same OE specifications you currently are using. You are repairing and rebuilding that original unit to its original intended design, and that creates an improved product. As we create more complicated units, reman will continue to become a preferred option.
Padgett: With trucks getting more and more expensive, and fleets and individual owner-operators holding onto their trucks for a longer period of time, the need for affordable quality reman units should increase.
That said, the quality of these reman units will have to be top notch, so that these commercial vehicle fleet managers and owner-operators can be confident that their trucks will not be sitting on the side of the road, losing money instead of making money. ■