A Look At Fuel Injectors
The remanufacturing of fuel injectors provides a vital engine component at a reasonable price
By Lucas Deal, Associate Editor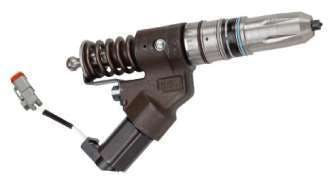 Remanufacturing is a vital part of the truck parts aftermarket. Truck Parts & Service has launched a year-long series on the subject of remanufacturing.
This issue's installment contains information from Tab Beazley, vice president of sales and marketing for ProDiesel and Robert Rivas, plant manager for Cummins' fuel systems plant in Juarez, Mexico.
TPS: What is involved in the remanufacturing of a fuel injector for a medium- or heavy-duty truck?
Beazley: ProDiesel completely disassembles every injector [and] immediately discards all noticeably worn parts. Then we place the rest in a special basket and send them to our parts washing machine.
All parts go through a regular wash cycle, ultrasonic cleaning and a drying cycle in our computerized biodegradable parts washing machine.
After cleaning, all parts are re-inspected for flaws and those parts [that fail the inspection] are discarded.
The next step is to send the bodies of the injectors to our machine shop to be inspected and machined to proper standards. After this step, some parts go through our bluing process for appearance purposes.
These processes are done to get the injector ready for pre-assembly. Our pre-assembly process includes adding the proper tip stacks, [and] all new parts are added back to [replace the parts] that were previously discarded as bad parts. The pre-assembly continues by dissembling the solenoids and replacing parts as needed. Then parts are tested for proper travel with special air gauges. After pre-assembly and pre-testing the parts go to final assembly.
After the injector is completely assembled, it goes to the MCM testing machine where it goes through 15 different testing processes to make sure the injector will operate in the vehicle as good as a new one.
After the injector passes these test processes, we send it to the packaging department. Each injector goes through an acid-etching process that stamps the part number, and a code number which can be traced all the way back through the entire remanufacturing process.
Rivas: We do a complete teardown and inspect every component to ensure it meets every original spec or proven equivalent. Once the individual parts [are] inspected we re-assemble and functionally test every piece with the same test equipment as used on new injectors.
TPS: Are there any new developments in heavy-duty fuel injector remanufacturing?
Beazley: There have been design changes throughout the life of some heavy-duty injectors, but the most noticeable change is eventually all injection will be common rail injection.
Rivas: We are constantly looking to innovate and use more modern machining methods and equipment, and are starting to use advanced simulation modeling in order to validate new salvage techniques.
TPS: Have recent emissions regulations had an impact on fuel injector remanufacturing?
Beazley: Not that much. We have been supplying many customers on the West Coast for quite some time and have never changed our processes.
Rivas: Yes, as the emissions laws have changed so have the complexities of the OEM parts. Our manufacturing processes have become increasingly complex as a result.
TPS: What are the benefits of a remanufactured fuel injector?
Beazley: No one provides a new injector for the heavy-duty [market] due to the extremely high cost. Plus, I have never known of an OE that stocks new injectors. All OEs sell remanufactured injectors just like the aftermarket. If the processes are performed properly, a remanufactured injector is as good as a new one at a fraction of the cost of new injectors.
Rivas: A remanufactured injector has a three-win scenario: the customer gets a lower cost service part with the same quality and warranty as new; our company gets valuable field data to improve new designs and remanufacturing allows us to lessen the burden on the OEM supplier where there is a demand constraint; and the environment benefits from what I call the ultimate form of recycling.
TPS: In what types of operations or for what types of customers does a reman fuel injector make sense?
Beazley: We supply our product through distributors who sell mining, construction, transit authorities, trucking of all types, recreational vehicles, marine, oil drilling, stationary engines on farms, backup power for large office facilities, hospitals and farm equipment.
Rivas: Remanufactured parts make sense for any customer since they meet the same aggressive testing and OEM specifications as new.
TPS: How do remanufactured fuel injectors fit into a distributor's parts strategy?
Beazley: Remanufactured injectors provide our distributors a value-added product to sell at a great profit margin, and at the same time it gives the customer a great product at a very competitive price. Plus, the remanufactured injector is a fairly high-dollar sale for the distributor.
Rivas: They offer the customer more options to service their trucks, especially when the customer is a second- or third-generation truck owner who wants the best value.
TPS: Does the aging truck population present opportunities for remanufactured fuel injectors?
Beazley: Absolutely. The longer any diesel vehicle stays in service, the more likely the opportunity to sell injectors, and more than just one time per engine.
Rivas: Second- and third-generation truck owners tend to choose a remanufactured product, so as the engine population increases the opportunity for remanufactured product also increases.
TPS: What do you see in the future for remanufactured fuel injectors?
Beazley: I believe that the diesel engine is established as the "workhorse" of most industries. The diesel industry is continually improving the fuel mileage, meeting the EPA requirements, and overall making the diesel engine more attractive to its customers.
Therefore, I see a very bright future for the diesel engine and for the components of the diesel engine. I see a very bright future for the injection process of the diesel engine. The fuel delivery is crucial to the success of the diesel engine, and with all the effort to improve the fuel delivery system, remanufactures should hope to play an important role as suppliers to the diesel industry.
Rivas: I think that globally the perception of a remanufactured product is changing. In North America reman always has been popular, even in the automotive industry, [and] we now are starting to see a shift where other countries are starting to see the benefit for all involved and for our environment.