Dealership News

Murphy-Hoffman Company (MHC Kenworth) has acquired 10 dealership and 11 leasing locations in North Carolina from Cooper Kenworth Inc. and Cooper Leasing Inc. MHC's expanded network now includes more than 90 dealership and leasing locations across 11 states.
Kenworth of Buffalo has acquired a Kenworth dealership in the Boston area and changed the name of its five-dealer organization to the Kenworth Northeast Group. Kenworth says the dealer group recently purchased the Kenworth dealership in Stoughton, Mass, along with territorial rights for Eastern Massachusetts and Rhode Island from Tri-State Kenworth in Enfield, Conn.
Wallwork Kenworth has opened a new parts and service facility in Dickinson, N.D. to serve oilfield and local agricultural businesses.
ATD has released its nominees for the 2013 Truck Dealer of the Year: Steve Bacalis, president and CEO of Tom Nehl Truck Co., in Jacksonville, Fla., Sheila M. Horwith, CEO of Horwith Trucks Inc., in Northampton, Pa., Andrew G. Linn, Jr., president of Southland International Trucks, Inc., in Homewood, Ala., Scott E. Oliphant, president of Kenworth of South Louisiana, LLC, in Gray, La., Todd Schaub, dealer principal of S & S Volvo, in Lima, Ohio, Brad Wilson, president of Peterbilt of Sioux City, in Sioux City, Iowa.
PEOPLE IN THE NEWS

Compli has appointed Jason Porter to the role of vice president of sales and marketing.
Fontaine Spray Suppression has made several management changes: Gerald Harrison has been promoted to president of Nu-Line Products, Alain "Al" Mineault has been promoted to president of Fleetline Products and Kyle Denu has joined the company as the vice president of sales and marketing for Hogebuilt.
The International Truck Parts Association ­announces Gerard Zentner of Capital Gear Ltd., Edmonton, Alberta has been elected to its Board of Directors.

Pedro Ferro has been named vice president and president of Meritor's Aftermarket and Trailer segment, replacing Joe Mejaly, who has elected to leave the company. Meritor also announces Tim Bowes has been appointed vice president and president of the company's new Commercial Truck and Industrial segment.
Michael Sigillito has been named vice president of Firestone Industrial Products, Americas.

Betts Spring Company has hired Eddie Cadena as marketing coordinator.
The Automotive Lift Institute elected Jerome Lentz of Challenger Lifts as chairman of its board of directors at its annual membership meeting.
Trailer Wizards Ltd. has appointed Dan Holt as senior account manager covering Ontario from Scarborough to Cornwall.

Ben Bruckner, Jr., chairman of Bruckner Truck Sales, died Nov. 27, 2012 in Amarillo, Texas. He was 82.
HDA Truck Pride has appointed Doug Zink to its sales and marketing team.
HDA Truck Pride sets 2013 meeting dates
HDA Truck Pride will hold its next annual membership meeting from May 1-5, 2013 at the JW Marriott Orlando Grande Lakes in Orlando, Fla.
HDA Truck Pride says the room rate for the JW Marriott Orlando is $199 per night, and meeting registration will be provided shortly. The hotel phone number is 407-206-2300.
For more information about the meeting, contact Tina Alread at tina.alread@hdatruckpride.com.
Economic News
The Equipment Leasing & Finance Foundation's November 2012 Monthly Confidence Index for the Equipment Finance Industry was at 49.9 in November, a decrease from the October index of 53.3. The Foundation says the drop reflects many industry participants' post-election concerns over issues, including the fiscal cliff, economic policy and taxes.

The American Trucking Associations' advanced seasonally adjusted (SA) For-Hire Truck Tonnage Index decreased 3.8 percent in October after falling 0.4 percent in September. The ATA says October's drop was the third consecutive, totaling 4.7 percent. As a result, the SA index equaled 113.7 in October, the lowest level since May 2011.
FTR Associates has released preliminary data showing November Class 8 truck net orders at 19,683 units, 14 percent below October and down 3 percent year-over-year. FTR says November was still the second highest month for orders since March and annualize to 236,200 units. Preliminary order numbers are for all major OEMs.
Cummins powered ProStar+ plus now in service

Navistar International Corporation released its first International ProStar+ Class 8 on-highway tractor equipped with the Cummins ISX15 and SCR-based Cummins Emission Solutions aftertreatment system in late November.
"This is a great accomplishment for Navistar and an important milestone as we bring our first SCR-based Class 8 trucks to the marketplace," says Troy Clarke, Navistar president and COO. "The entire launch team and hundreds of others working behind the scenes are committed to a high-quality launch and this achievement is another proof point in our progress."
Navistar says engineering teams from both Cummins and Navistar worked in close collaboration, co-located in a dedicated section of Navistar's headquarters in Lisle, Ill. to design the tractor.
Pine Bluff Truck and Trailer celebrates 50 years
Pine Bluff Truck and Trailer has reached 50 years in business.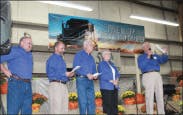 The Arkansas-based distributor celebrated the milestone last fall with a customer appreciation banquet that was attended by more than 400 customers.
Pine Bluff Trailer Manufacturing was founded in 1962 by Harold Staton. Shortly thereafter, Don Miller joined Pine Bluff as service manager. The two led the business for decades. According to Pine Bluff, the company's service business started when it began providing mobile repairs to fleet customers at night, and the business expanded from there. Pine Bluff became a member of HD America in 2000, and is now a member of HDA Truck Pride.
In 2003, the company moved into a new facility with 10 service bays, parts showroom, warehouse and office space all under one roof.
VIPAR adds Phoenix Truck and Bus, LLC
VIPAR Heavy Duty has announced Phoenix Truck and Bus, LLC in Indianapolis, Ind. is the newest stockholder to join its network of distributors.
"Phoenix Truck and Bus is a welcome addition to the VIPAR Heavy Duty network," says Jim Pennig, vice president, business development, VIPAR Heavy Duty. "They have significantly expanded their product mix and inventory to continue to meet the growing needs of fleets, repair facilities, and owner-operators in the Indianapolis area."
Under the leadership of its president, Mark Smith, Phoenix Truck and Bus operates a 10,000 sq. ft. parts department that carries a complete line of heavy-duty aftermarket parts, VIPAR says. The company also offers a full-service maintenance and repair facility.
EcoDual wins EPA approval for Cummins ISM conversion
EcoDual has achieved authorization from the U.S. Environmental Protection Agency (EPA) to begin installing its systems on all 29 engine families of the 2004 to 2009 Cummins ISM engines.
According to the company, its EcoDual conversion kit for the Cummins ISM 11L engine will provide fleets with an opportunity to substitute low cost natural gas for expensive diesel fuel. EcoDual says its natural gas-to-diesel fuel substitution rate is the highest among all available dual fuel conversion kits, providing enormous fuel cost savings and the shortest return on investment. The cost of the dual fuel system is often recovered in operational savings within one year without any government incentives.
"EcoDual is committed to providing a major cost savings to truck fleet owners," says Scott Meyers, EcoDual president and CEO. "This approval of our ISM system greatly expands our dual fuel product line to nearly 50 engine families that can run on CNG or LNG. As with all of our other products, EcoDual will provide a 2 year/250,000 mile warranty and lease-to-own financing for immediate fuel savings."
Over the next 12 months, EcoDual says it will be releasing multiple systems certified for newer trucks with the Cummins ISM and ISX engines, and other engine families from Detroit Diesel, Mack, PACCAR and Caterpillar.
Registration opens for 2013 TMC Meeting
The American Trucking Associations' Technology and Maintenance Council (TMC) has opened its early bird registration for its 2013 Annual Meeting, set for March 11-14, 2013 at the Gaylord Opryland Hotel and Conference Center in Nashville, Tenn.
TMC says interested participants can register for the conference at http://www.trucking.org/abs/Pages/2013TMC.aspx, and early bird rates will be in effect until Feb. 11, 2013. TMC also says all attendees must make their own reservations. The Gaylord Opryland has a conference room rate of $179 per night, and can be reached at 888-777-6779, 615-889-1000 or at the hotel's website. When registering, mention the "TMC annual meeting" to get the special event rate.
Meritor consolidating North American reman operations
Meritor is consolidating its North American remanufacturing operations to its Plainfield, Ind. facility.
The company says it expects to transfer production operations from its remanufacturing plant in Mississauga, Ontario by March 31, 2013 while moving its Canadian customer service and support to its Brampton, Ontario facility.
"We believe this investment will help us improve efficiency while better serving our customers in today's competitive landscape," says Doug Wolma, general manager, Global Aftermarket Operations. "At the same time, this move will strengthen our global remanufacturing footprint."
As a result of these actions, Meritor says it plans to invest approximately $1.4 million in its Plainfield facility while creating approximately 82 new jobs during 2012 and 2013.
VIPAR has record turnout at annual conference
A record number of stockholders and suppliers participated in the 2012 VIPAR Heavy Duty Annual Business Conference from Oct. 21-26, 2012 in Marco Island, Fla.
According to VIPAR, more than 90 percent of its stockholders/distributors from the U.S., Canada and Mexico attended the event, which included educational seminars, a tradeshow, an annual stockholder meeting and one-on-one meetings with over 110 supplier partners.
"With the heavy-duty aftermarket continuing to show positive signs, those who attended our conference were upbeat about the marketplace moving forward," says Steve Crowley, president and CEO, VIPAR Heavy Duty. "As a result they are making aggressive plans to expand business, which is good news for everyone in the heavy-duty market."
VIPAR Heavy Duty's 2013 Annual Business Conference will be held Oct. 20-25, 2013 at the Marco Island Marriott Resort in Marco Island, Fla.
University of the Aftermarket holds finance seminar
The University of the Aftermarket held its first two-day aftermarket-focused finance and accounting seminar in November on Northwood University's Michigan campus.
According to Northwood, the program was specifically designed for aftermarket professionals who were interested in improving their understanding of financial and accounting concepts in an aftermarket framework. The course covered basic financial statements (balance sheet, income and cash flow statements), managerial accounting, budgeting, reading quarterly/annual statements, understanding financial concepts and their practical application, case studies, as well as the use of different types of financial resources, Northwood says.
"This was the first seminar of its kind for the University of the Aftermarket and the level of participation proved that this is a much-needed program," says Brian Cruickshank, University of the Aftermarket director. "The discussions in class were insightful, real-world based and I am confident that participants learned a lot."
Fontaine reopens Ohio modification center
Fontaine Modification reopened its truck modification center in Springfield, Ohio in December to provide post-production modifications on Navistar on-highway and vocational trucks for dealers and fleets across North America.
Fontaine says its decision to reopen its Springfield facility was driven by Navistar's Oct. 30, 2012 announcement it is closing its Garland, Texas, truck manufacturing operation early in 2013, and shifting all production to both Springfield, Ohio, and Escobedo, Mexico. The modification center is located near Navistar's Springfield truck manufacturing facility. Fontaine says its present ship-thru arrangements with Navistar will continue in Springfield.
"Reopening our Springfield modification center will provide us with increased access to new Navistar trucks, enabling us to continue to seamlessly provide high quality in-line and stall-built truck modifications to our customers," says Will Trantham, president of Fontaine Modification. "We will also consolidate all of our Navistar truck steering conversions, including stand-up right drive and sit-down dual drive, at the Springfield modification center, similar to what we had done in Garland, Texas. We have found that consolidating these more complex modifications into a single center results in increased quality and reduced vehicle dwell time."
Jasper, Quality Rebuilders join MERA
The Motor & Equipment Remanufacturers Association (MERA) has added Jasper Engines & Transmissions and Quality Rebuilders, Inc. as its newest members. MERA now includes 67 companies in the remanufacturing industry.
"We welcome Jasper and Quality Rebuilders to the MERA network," says John Chalifoux, president and COO, MERA. "As we look forward to 2013, we are excited to see the continued, strong growth in the membership and value proposition of MERA."
Diesel engines, transmissions, differentials and rear axle assemblies highlight Jasper's remanufacturing offering, MERA says, while Quality Rebuilders, Inc. remanufactures automotive rotating electrical, front wheel drive axles and rack and pinion components.
Westport announces new tank systems for NG trucks
Westport Innovations Inc. has announced a new on-board storage solution that provides top performance for vehicles using liquefied natural gas (LNG).
According to Westport, the new Westport LNG Tank System will be available in 120 and 150 gallon capacities and is optimized for spark ignited (SI) engines. It will begin shipping by mid-2013. Westport says tank system features proprietary technology and is expected to provide customers with the ability to fuel even the largest SI engines on a single tank and deliver extended range.
"Our early production systems tested with the Cummins Westport ISX12 G in a Peterbilt 384 truck have proven to have excellent performance characteristics and superior operating results on a single tank," says Steve Anderson, Westport HD vice president of business development. "We believe this is the only on-board fuel system for LNG-fueled engines that can operate on a single tank using range-extending cold LNG."
WheelTime, American Power Group reach agreement
American Power Group Corporation announces its subsidiary, American Power Group, Inc., has signed a national distribution and master marketing agreement with WheelTime Network, LLC.
Under the terms of the agreement, WheelTime will endorse APG technology and engage its member companies in establishing a North American network to market and install APG's vehicular turbocharged natural gas systems, APG says.
"We see natural gas as an important and necessary development in our industry. Accordingly, WheelTime made a strategic decision earlier this year to begin taking the necessary steps to become a center of excellence for the installation and servicing of natural gas engines," says Mike Delaney, president and CEO of WheelTime.
"To become aligned with the number one quality truck service network in North America is clearly one of the most important marketing and operational milestones in our company's history," says Lyle Jensen, president of American Power Group. "WheelTime members understand engine performance and their leadership in installation and warranty service will accelerate the rollout of our technology."
Ram Truck launches Commercial Truck Division
Ram Truck has launched a new division to focus on commercial truck development, sales and support in a growing market.
According to the company, the new Ram Commercial organization offers a full line of industrial-strength trucks and vans.
"Ram Truck is committed to delivering the best value proposition with low total cost of ownership across the entire product line up. From the Ram 5500 Chassis Cab to the Ram C/V, we're providing best-in-class capability and technology," says Fred Diaz, president and CEO, Ram Truck Brand and Chrysler de Mexico — Chrysler Group LLC.
Oliver Rubber celebrates anniversary
Oliver Rubber is celebrating its centennial anniversary this year.
Founded in 1912 in Oakland, Calif., by engineer Marion F. Oliver, the company says it was one of the first to retread tires with pre-cure rubber, organic accelerators, synthetic rubber and carbon black. For 100 years, Oliver has contributed to the development of pre-cure and mold cure retreading. In 2007, Oliver Rubber became a wholly-owned subsidiary of Michelin North America.
"Oliver Rubber's original goal was to provide its customers with quality tread rubber and value," says Vic Koelsch, chief operating officer for Michelin Americas Truck Tires. "Now, 100 year later, Oliver continues to execute the strategy that has made it successful from day one and we are proud that the company is part of the Michelin family."