Daimler Trucks North America (DTNA) rolled out Monday a new customer loyalty program for owner-operators and small fleets. The Truck Bucks loyalty program is designed to reward customers with parts and service specials at Freightliner, Western Star, Detroit and Thomas Built Buses service locations.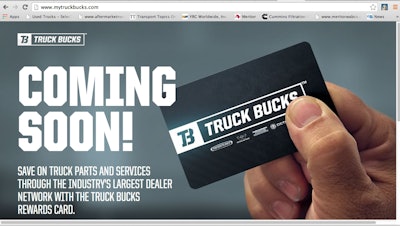 DTNA says customers enrolled in Truck Bucks will receive discounts and special product incentives including discounts on select parts and services designed to introduce customers to the full breadth of DTNA's aftermarket offerings. The truck-maker says its program is designed to be customer-friendly with discounts applied at check-out without the need for coupons or further action by the customer.
"Truck Bucks is a great opportunity for us to reward our customers for their loyalty to the DTNA network," says Todd Biggs, director, aftermarket parts and service marketing for Daimler Trucks North America. "This program will allow us to get closer to our customers, and help us to facilitate a rewarding aftermarket experience overall."
The DTNA dealer and distributor network has taken great lengths to improve the customer experience at the service level through the integration of new technologies and operational efficiencies at every stage of the truck buying and post-purchase cycle, Biggs adds.
"We recognize that today owner-operators and small fleets have a lot of options for parts and service. They are very conscious of total cost of ownership. To us, that means our parts and service operations have to be exceptional in both quality and value. Truck Bucks is an example of our commitment to put the customer first."
Drivers can sign up for Truck Bucks online at www.mytruckbucks.com and at the Mid-America Trucking Show in March.