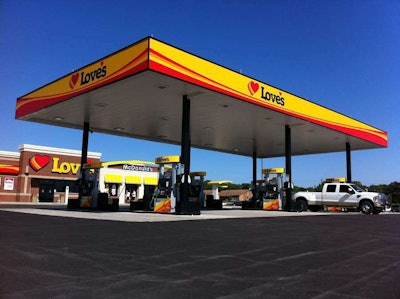 Love's Travel Stops (Love's) has recently added Goodyear and Continental tires to its commercial truck line. Love's also offers Bridgestone, Firestone, Aeolus, Michelin, Michelin Retreat Technologies, BF Goodrich and Yokohama.
The company also expect the number of locations offering light mechanical services to more than double this year. Of the more than 180 Love's Truck Tire Care locations, light mechanical services (electrical repairs, belts and hoses, fleet and DOT inspections, brake repairs and more) are currently offered at nearly 70.
Love's also operates two tire care centers with full-service maintenance.
"We've received an overwhelmingly positive response since light mechanical services were introduced in 2012," Tom Love, founder and executive chairman, says. "We're fortunate to be in the position to expand and give truck drivers easy access to services that are imperative to their livelihoods."
Love's is also reinvesting in its existing truck tire care centers with plans to expand many current shops that will include additional warehouse space. All newly constructed tire shops will feature attached and enclosed bays, more room and increased amenities, the company says.