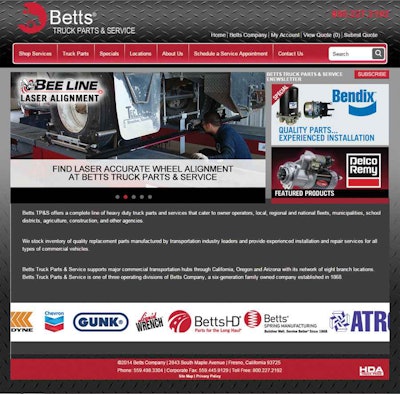 Betts Truck Parts & Service has launched a new website, BettsTruckParts.com. The new site provides information about the division's complete line of heavy duty truck parts and services that cater to owner-operators, local, regional and national fleets, municipalities, school districts and other agencies.
Pull-down menus include information about shop services, truck parts, locations and special offers. In addition, visitors to the site can schedule an appointment at one of eight Betts Truck Parts & Service branches located near major commercial transportation hubs in California, Oregon and Arizona.
"Betts Truck Parts & Service stocks a robust inventory of quality replacement parts manufactured by transportation industry leaders and provides experienced installation and repair services for all types of commercial vehicles," says Don Devany, senior vice president, Betts Company, who helps lead Betts Truck Parts & Service. "Our new website helps tell that story to site visitors in a visually compelling manner."
In addition, the website provides tech tips and the opportunity to sign up for the Betts Truck Parts & Service e-newsletter.
The company says the launch of its new website was the final step in the completion of a strategic branding initiative that began in 2013 throughout all divisions of Betts Company.