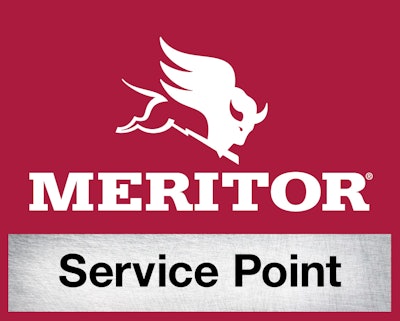 Meritor Inc. is looking for partners in independent service repair shops around the country.
The company announced at Heavy Duty Aftermarket Week 2015 (HDAW) Tuesday that it will launch a network of Meritor-approved repair shops with independent service garages (ISGs) across the U.S. and Canada.
"This is a way for us to connect and have an affinity for the Meritor brand," says Terry Livingston, general manager, Category Management, Aftermarket. "We expect to attract the best of the best. I want to do this to raise the level of the technicians in the field, plus I want to sell my product."
Livingston says fleets taking vehicles to a garage approved for the Meritor Service Point program will benefit from Meritor parts installed by technicians trained with Meritor's product knowledge.
"ISGs will continue buying Meritor products directly from our distributers, who will benefit from greater revenue growth opportunities," Livingston adds.
Distributors will play a key role in developing the network. Distributors will reccomend garages to Meritor, who will then connect with and qualify them. Selected garages will receive training and technical access.
"The signage, the name, the education, the training, will all uplift them," Livingston says.
ISGs approved for the Meritor Service Point program will carry Meritor signage and promote all of the company's brands, including the Meritor AllFit and Green series, Euclid and Meritor WABCO.
Additionally, garages will benefit from product training, greater Meritor brand awareness, enhanced online aftermarket parts search and identification and rewards programs.
To qualify for the Meritor Service Point program, garages must have current tools and equipment for Meritor-approved services, and technicians must train with Meritor either online or in live training sessions to deepen their product knowledge. ISGs must agree to buy Meritor components from approved distribution partners, meet certain Meritor parts sales targets and participate in the company's future nationally advertised promotions. Approved garages will determine when to purchase Meritor products based on their needs.
Meritor developed the program after conducting extensive market research, including a survey of ISG owners, to gain insight and understanding of their needs.
"ISGs account for a significant portion of Meritor parts sales, and this program will help them find parts more easily so their Meritor-trained technicians can install products on customers' trucks with greater knowledge and efficiency," says Marty Hetherington, manager, Brand and Marketing, Aftermarket. "These Meritor-approved ISGs will be more visible to fleets and drivers who know and respect our brand. They will remain independent and the selling relationships with Meritor's distributer partners will not change."