Business Software for Service Providers
Karmak has released a business software solution for repair facilities. The company says it decided to provide the software after identifying demand for it while researching segments in the heavy-duty industry.
According to Karmak, service providers will benefit from the system by increasing revenue, controlling expenses and reducing liability.
Focusing on the small business repair facility's bottom line, the company designed the Karmak Velocity business management system.
The software is equipped with features to support the lean and growing repair shop, Karmak says.
It offers a solution to manage service, parts, accounting and reporting needs with the simplicity of a hosted solution.
Karmak
Visit tpsdigital.com/info
Engine Air Cleaner
Parker Hannifin's Racor Division designed its Eco-III-XL Series heavy-duty engine air intake filters to meet the demanding requirements of trucks, buses and equipment for agricultural, construction, turf care, forestry and mining applications.
The air cleaner features a decreased pressure drop at higher airflows, four levels of protection, airflow rates up to 1,000 cfm and easy installation and service, Parker Hannifin says.
Parker Hannifin
Visit tpsdigital.com/info
Self-Steer Axle Suspension Series
SAF-Holland announces the availability of integrated suspension/axle systems with self-steering capability.
The new self-steering suspension/axle system will feature SAF- Holland's latest lightweight fusion beam technology available in two different steer angle models.
SAF-Holland says the new optimized self-steer axle is designed to provide a wheel cut of 20 degrees or 25-to-30 degrees, depending on the model.
Advanced SAF Integral disc brake technology is standard on the initial offering; drum brake configurations and other options are planned to meet future market needs.
Various capacities are available in the series, which include the SAF Self-Steer CBX23, SAF Self-Steer CBX25 and SAF Self-Steer CBX25/30. While the CBX23 and CBX25 models deliver capacities of 23,000 lbs. and 25,000 lbs., respectively, the CBX25/30 offers an additional 30,000 lbs. of load-carrying capacity at creep speed (5 mph or less) and 25,000 lbs. of capacity for on highway operation, the company says.
SAF-Holland
Visit tpsdigital.com/info

Super Ultracapacitor
Kold Ban International's KAPower Nickel Carbon Supercapacitor features a proprietary asymmetrical double-layer design to meet the engine cranking demands of today's accessory-laden engines.
The ultracapacitor, which uses a physical reaction to store and release energy, has nickel and carbon electrodes, non-conducting separators and an alkaline electrolyte inside each cell, all engineered to provide a dependable alternative to traditional lead-acid batteries, says Kold Ban.
Kold Ban International
Visit tpsdigital.com/info

Sliding Vane Pump
Blackmer has announced the availability of the STX2A-DEF Sliding Vane Pump, designed specifically for the transfer of AdBlue.
Features of the STX2A-DEF pump are said to be:
*Meets ISO 22241 material standards and cleanliness specifications required for AdBlue applications
*316 stainless-steel construction
*Push rods provide slower pump speeds from 350 to 780 rpm
*Maximum viscosities of 4,600 SSU (970 cSt)
*PTFE elastomers and standard Duravanes
*90-degree porting with weld flanges
*Dimensional interchangeability with Blackmer TXD2, TXD1220 and STX1220A pump models
*Ball bearing construction with PTFE chemical mechanical seals
*Internal adjustable relief valve
*Three drain ports to allow draining in any mounting position
Blackmer
Visit tpsdigital.com/info
New Mud Flap Hangers
Life-Time Fenders has expanded its spray suppression bundle by adding mud flap hanger part numbers. According to the company, distributors now have access to a comprehensive offering of fenders and mud flap hangers, offering greater inventory and improved service to their customers.
Newly added to the bundle are three coiled bar type hangers and two spring-loaded hangers, including powder coated black tapered and full size angled designs. Life-Time says its mud flap hanger offering totals 18 discrete part numbers.
Life-Time
Visit tpsdigital.com/info

Heavy-Duty Alignment Stand
Ari-Hetra has introduced portable Model ALS-18 heavy-duty alignment stands.
According to the company, these stands are to be used in conjunction with the HDML Mobile Lifting System, providing a portable solution for heavy-duty alignment that does not require a dedicated service bay.
The ALS-18 stands are said to provide ample under vehicle access making it easy to inspect, adjust and replace steering and suspension components during an alignment.
They are said to be easy to move using a pallet jack and can be put away when the alignment procedure is complete. The ALS-18 stands work with the Ari-Hetra HDML Mobile Lifting System providing more versatility than a dedicated alignment rack, the company says. Ari-Hetra offers both turn plates and slip plates.
Ari-Hetra
Visit tpsdigital.com/info
Flexible Worklamps
Ecco's E92019 Series worklamps offer the choice of spot or flood illumination and modular models that can be linked together either horizontally or vertically to suit individual needs, the company says.
The series offers high-intensity 1,400-lumen light output and IP68 intrusion protection, the company says.
Ecco
Visit tpsdigital.com/info
Front Steer Axles
Meritor, Inc. has added to its range of non-drive front steer axles with the introduction of a 12,500 lb. rating for its front steer axles. According to Meritor, this rating enhances steering control, improves durability and lowers maintenance costs.
Features and benefits of Meritor's non-drive front steer axles include:
A draw-key design that offers greater lateral stability, more even loading and greater retention for reduced wear
A Meritor bolt-on king pin cap that reduces contaminant ingress, which may increase wear and decrease service life
Meritor steer bushings have more friction to optimize steer effort ease without front-axle vibration
Meritor says the axle warranty for linehaul applications is five years or 750,000 miles with parts and labor included.
Meritor
Visit tpsdigital.com/info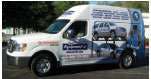 Service Tool Truck
Greg Smith Equipment Sales announces the arrival of its first 'Showroom on Wheels' tool truck.
According to the company, the tool truck will be making rounds throughout the Atlanta metropolitan market where it will offer free product demonstrations on the company's Atlas alignment machines, wheel balancers, tires changers and Jonnesway hand tools.
Greg Smith Equipment
Visit tpsdigital.com/info