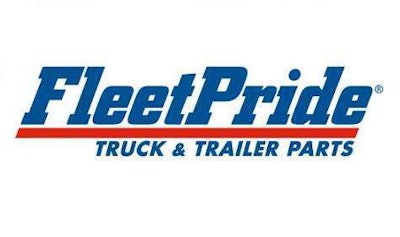 FleetPride is hoping to turn milestones into standards in 2015.
After surpassing $1 billion in sales for the first time just last year, CEO Kevin Peters says the nation's largest independent aftermarket distributor has set its sights on raising the bar even higher this year.
"We're excited about our business right now and what we were able to do in 2014," says Peters. "[In 2014] we've proven we can grow organically through operational initiatives. That's quite an achievement for us and our people."
Since its founding in 1999, FleetPride has used an aggressive acquisition strategy to key most of its growth. While Peters says the company remains open to growth through acquisition and Greenfield expansion, significant internal changes set in motion over the last two years had the biggest impact on the company's record-setting 2014.
He says that success is a testament to the quality of the operations and the people in place to implement them, and says FleetPride is eager to continue streamlining its operation in the coming year.
Peters credits a detailed customer survey for pointing the business in the right direction.
"We spent a lot of time talking to current customers and customers who have left the business," he says. "We tried to understand what drove their decision making" to remain with the operation or look elsewhere.
Among the changes implemented since the survey is a new corporate phone system that standardizes FleetPride's response to any and all customers across its 257-location network, and a sales management system that has improved its team's communication and proficiency.
An ever-expanding inventory also is leading to more sales, says Peters.
"We've invested a significant amount of money in inventory — improving our breadth and depth of product lines," he says.
But internal improvements doesn't mean the company has retired from its acquisition history.
Peters says FleetPride has identified 25 metropolitan markets where the business is still underrepresented. He says the company plans to monitor each market carefully for the best growth opportunities.
"We'll be a little more thoughtful and strategic about where we grow," he says.
FleetPride is a national company, but Peters says it requires a personal touch to succeed.
"Our team is very market and local specific," he says. "We will win if we win in the local marketplace."