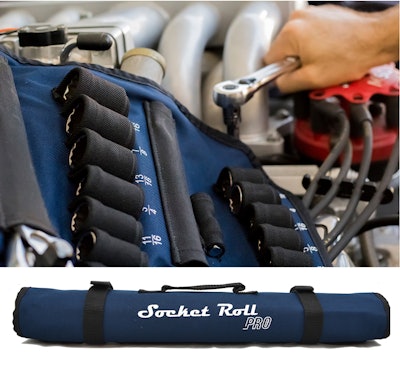 Cay Industries introduces the ultimate solution for portable socket storage, Socket Roll Pro.
According to Cay Industries, the portable tool organizer offers a clearly-labeled and easily stowable container for sockets, wrenches and drives. It rolls out to hold 66 tools of the most common standard and metric sockets and drives (1/4, 3/8 and 1/2 in.), in addition to the universal joint, extension and ratchet for each drive and a standard 5/8 spark plug socket. The back of the tool organizer features six wrench slots for quick access.
"Socket Roll Pro is such a great product. There is a huge need for people of all industries to be able to quickly find the right socket for the job and we're happy Socket Roll Pro is there to assist," says Chris Yoosefi, CEO, Cay Industries.
The company adds the organizer is made to roll into a compact carrying case for easy transport. Made from high grade military spec (MILSPEC) woven elastic with a patented stitching technology that locks each socket firmly in place, the special locking mechanism allows the socket to be inserted into the organizer in any direction, yet only taken out in one, the company says.