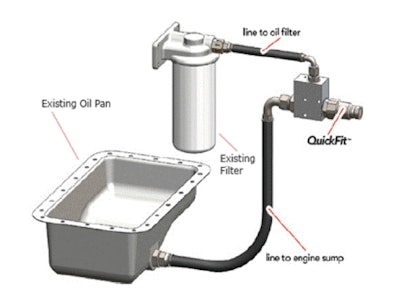 RPM Industries, a long time supplier of pre-lubrication and oil evacuation solution provider, will showcase its new QuickFit oil evacuation solution at next week's ATA Technology & Maintenance Council (TMC) Annual Meeting in Atlanta.
According to RPM, the QuickFit Solution allows technicians to focus on providing a cleaner, safer and faster oil change service that reduces environment and safety liabilities. Technicians will purge, evacuate and refill the engine oil from a single point of contact at ground level. RPM says these three simple steps help eliminate spills, improve safety, and improve service efficiency.
By purging the oil filter prior to its removal and replacing the new filter empty, RPM says it can eliminate both oil spills and burns by forcing the oil out of the filter and down into the oil pan while dramatically reducing the temperature of the filter prior to its removal. Additionally, the company says refilling the oil from that same point of contact eliminates the prefilling of filters and allows the technician to filter the new oil while filling the oil filter and engine compartments. This provides the technician a "live" dipstick read without starting the engine, the company says.