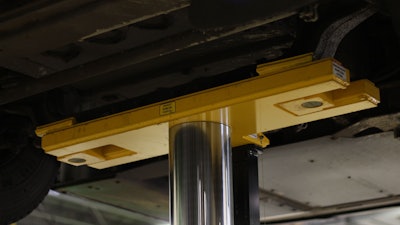 Rotary Lift has updated its patented universal style lifting saddles and is introducing a variety of lift adapter packages for use with its new MOD35 modular heavy-duty inground lift series.
There are four universal saddles to choose from, each now with best-in-class 35,000 lbs. lifting capacity, the company says.
"Truck and bus manufacturers are constantly improving their vehicles in response to customer needs and government mandates," says Paul Lee, Rotary Lift heavy-duty product support and field service specialist. "Buses are getting lower to the ground to make them easier to enter, and many trucks feature wind fairings for improved aerodynamics, all of which can make sliding under the vehicles more difficult. Adding emissions control equipment, air brakes and sway bar controls can increase overall vehicle weight and block access to traditional lifting points.
"That's why Rotary Lift has spent years developing not only the new MOD35 lift series, but all the saddles and lift adapters that make it possible to efficiently use the MOD35 for virtually any heavy-duty lifting application."
Rotary Lift says MOD35 is the next generation of Rotary Lift's MOD30 modular, environmentally friendly heavy-duty inground lift, the best-selling lift in its class. More than 1,100 MOD30 lifts have been installed since the product's introduction in 2002. Rotary Lift's patented universal saddles are widely used on MOD Series, EFX60 inground scissor and traditional inground lift installations worldwide.
The modular design of the new MOD35 inground lift enables it to be customized for any location. The wide array of available saddles and adapters enable heavy-duty customers to equip the lift for virtually any lifting application, the company says.
Rotary Lift says customers can choose from four patented saddles:
Ultra-low-profile: With the lowest profile in the industry at just 2.5 in. tall, this saddle offers excellent drive-over clearance and can be retracted completely into the ground for zero obstructions when not in use. Use with low-profile inserts to pick up low-floor and kneeling buses.
Low-profile: For many customers, this "standard" front saddle is ideal for most jobs. It's 4.5 in. tall, with a maximum reach of 40.75 in., thanks to two sliding adapters.
Low truck front (T-style): This 4.5 in. tall saddle offers the widest reach, at 56 in., to facilitate picking up vehicles that don't have a solid front axle, including utility trucks with A-shaped control arms.
Tall rear: Designed specifically for the rear post, this saddle features six insert receptacles (all of the front saddles can accommodate two inserts each) that slide left and right to provide an incomparable pick-up range, as well as the flexibility to reach into areas that other adapters can't access.