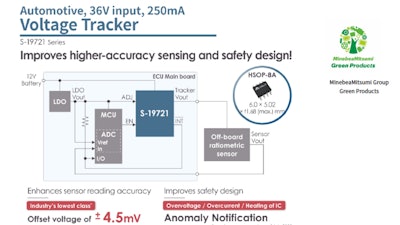 ABLIC launched a new line of voltage trackers on Monday.
The S-19721 series has the lowest offset voltage in the industry, the company says, and provides accurate sensor readings in supplying ECU external sensors and components with electricity. The trackers can output up to 250mA and can cope with the high current output required by high performance sensors or power groups of sensor as the number of sensors multiplies.
It can also give an anomaly notification that makes the IC status known and features protective circuits. It is Production Part Approval Process capable and planned for compliance with Grade 1 of the AEC Q100 quality standard.