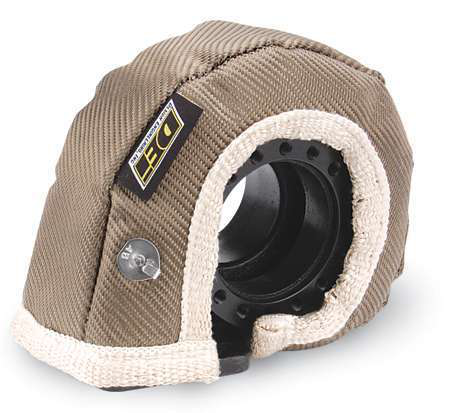 Design Engineering (DEI), a manufacturer of high performance thermal control products, has introduced its GEN-II Turbo Shield with LR Technology designed to reflect excessive radiant and direct heat generated by turbochargers.
The unit is a custom fit for all T3, T4, T6 and T25/28 turbochargers.
The Tubo Shield is built from pulverized lava rock, extruded into fibers and then woven into a tight weave. A high temperature rated silica fireproof insulation padding serves as added protection to handle direct continuous heat up to 1800° F and up to 2500° F of radiant heat.
The GEN-II Titanium Turbo Shield has a thick fireproof core and high-temp material to protect and reinforce seams vulnerable to higher heat, produced from higher horsepower turbos.
The company says its GEN-II turbo shield keeps heat inside the turbo allowing the turbo to spool up faster while reducing radiant temperatures, resulting in cooler air intake temps for improved performance and a boost in horsepower. The shield provides added protection against burns when in close contact with the turbo and reduces the risk of a flash fire that can occur from oil or gas coming in contact with a hot turbine.
Anchoring hooks are located on the shield for secure fastening to the turbine housing. DEI's GEN-II Turbo Shield can be purchased separately or as a kit.  The kit includes a 2"x15' roll of Titanium pipe wrap, two 20" stainless steel zip ties and 5' of fastening wire.