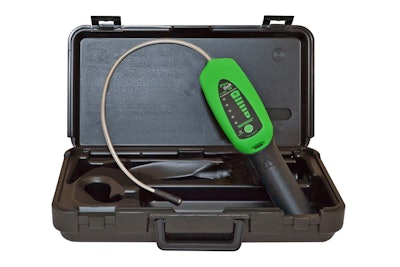 Tracer Products introduces its Tracerline TP-9363 PRO-Chek CG Combustible Gas Leak Detector, a diagnostic tool for finding leaks in CNG vehicles, acetylene welding tanks, propane tanks and more. It also detects gasoline, methanol, ethanol, methane, ethane, butane and other dangerous gases.
According to Tracer, the PRO-Chek CG is twice as sensitive as competitive units, and features a three-position switch with a sensitivity slide that helps pinpoint the location of each leak fast.
Additional features include a variable-intensity auto alarm and flashing yellow LED to determine the size of the leak, and an auto-zero function that blocks out background gas levels, Tracer says. The detector comes complete with sensor, two D-cell batteries and a carrying case.