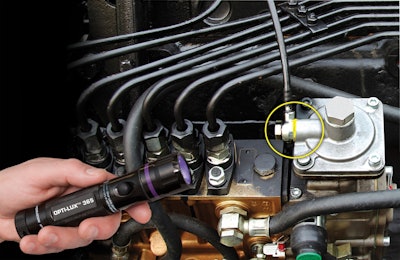 Tracer Products releases the Tracerline OPTI-LUX 365 LED leak detection flashlight, which provides pure UV light for optimal fluorescent dye response.
Ideal for all A/C and fluid system applications, Tracer says the light produces a brilliant glow that makes all leaks easier to find, slashing valuable diagnostic time. The flashlight is more than twice as powerful as most corded, high-intensity UV lamps, brightly spotting all dyes (both green and yellow). It even pinpoints high-mileage, dirty diesel engine oil leaks, the company says.
The OPTI-LUX 365 also is compact and lightweight, and Tracer says its powerful UV LED has an inspection range of 25 ft. or more. Powered by one rechargeable lithium-ion battery (extra battery included in kit), it provides four hours of continuous inspection between charges, the company says.
For more information about the flashlight, call 1-800-641-1133 or visit www.tracerline.com.