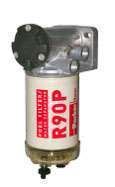 Parker Racor has announced new In-Bowl Heaters for Spin-On Series fuel filters.
Spin-On Series fuel filter water separators are equipped with optional in-bowl heaters, with the 200W resistance heaters integrated into the bowl. The company says placing the heat source just below the filter allows for maximum transfer.
Racor's spin-on series in-bowl heaters are available installed in an assembly upon order or as a retrofit kit.
For more information please request brochure #7749, or call 1-800-344-3286 for technical assistance.