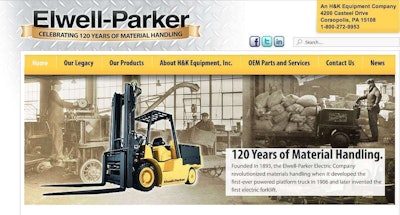 Shortly after Elwell-Parker was sold to Hoist Liftruck in 2000, Elwell-Parker's website was taken offline and redirected to the parent company's website.
H&K Equipment, which itself was founded from an Elwell-Parker dealership by Alan Heidenrich and current CEO George Koch in 1983, has been working to maintain Elwell-Parker's prominence in its core markets since gaining ownership of the company in 2010.
And now, those efforts include bringing the company's Web-presence back to life.
"My career in the industry started because of Elwell-Parker," Koch says. "Our success was made possible by what they did and it means a great deal to this company to continue that tradition. Now we have American manufacturing making a comeback. It's time for Elwell-Parker to make a comeback also."