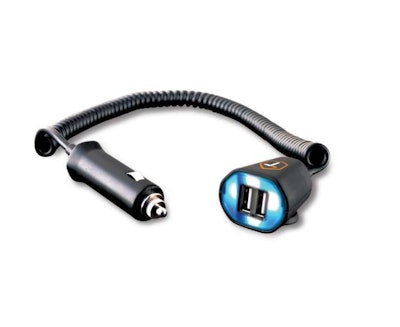 Mizco International has expanded its line of driver communication accessories to now include a solar power battery pack, a Bluetooth headset, a heavy-duty USB cable and smartphone case.
The company's battery pack is equipped with a windshield charging mount on one side, and an anti-slip dashboard charging mount on the other for easy placement and accessibility. With a 6000 mAh capacity, drivers can charge and use up to 2 devices simultaneously, without having to utilize a power source other than the sun and/or incandescent light, Mizco says.
The company's headset features 8 hrs. of talk time, up to 250 hrs. standby, and has a flexible 320° degree boom microphone with a wind diffuser. This model also utilizes Bluetooth 2.1 technology for great sound quality and clarity, offers 3 way calling, voice activated dialing, and can be worn comfortably on either ear, Mizco says.
The USB power extender is said to have an 8 ft. coiled cord and provides 3.1 amps of power.  The unit is designed to bring the power head to the driver so they don't need to fumble at the console to plug-in and unplug their devices, Mizco says. With 3.1 amps via 2 USB ports, the extender allows for simultaneous charging of two devices.
Available in black, tan, digital camo and traditional military camo, each phone case has a padded protective flap with velcro and E-Z snap closure, a heavy-gauge metal belt clip, two-way (vertical or horizontal) belt-through loops and a mini carabineer clip, Mizco says.