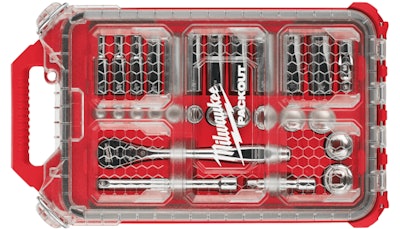 Milwaukee Tool announced will be offering three ratchet and socket sets in PackOut low-profile organizers, fully compatible with the PackOut Modular Storage System.
The sockets feature the Four Flat Sides, which are anti-roll and wrench-ready. All sockets are engraved with sizing for lasting readability. The ratchet in all of Milwaukee's ratchet and socket sets is designed with a slim profile head and 90 teeth delivering 4 degrees of arc swing for better access in tight spaces, the company says.
For users that already have Milwaukee ratchet and socket Sets, individual trays will be available to convert them to a PackOut Organizer.
These sets and trays come with a lifetime guarantee and will be available June 2020 at select distributors, Milwaukee says.