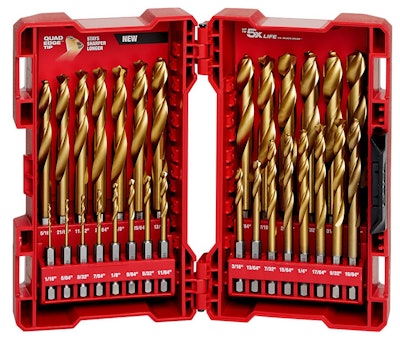 Milwaukee Tool continues to enhance its line of twist-drilling accessories with the next generation of the company's ShockWave Red Helix Titanium Drill Bits.
Engineered for extreme durability and longer life in wood, plastic and metal applications, these new bits provide up to five times the life versus black oxide drill bits, the company says.
New to this next generation of Red Helix drill bits are two features: a quad edge tip and enhanced tapered web. The quad edge tip delivers a longer life with a precision start and four cutting edges to stay sharper longer. The drill bits' enhanced tapered web acts as an internal backbone and strengthens the bit to reduce premature breakage, a common user frustration, Milwaukee Tool says.
Like the Red Helix cobalt drill bits that launched last year, the next generation of Red Helix titanium drill bits are designed with a variable helix that includes an aggressive 35° helical angle that varies along the flute, ending at 15° limiting heat build-up for faster material removal.
The next generation of Milwaukee's ShockWave Red Helix titanium drill bits are ideal for use with both drills and impact drivers and will be available in sizes ranging from 1/16 in. to 1/2 in., as well as in sets. The drill bits will be available for purchase at select distributors in July 2020, the company says.