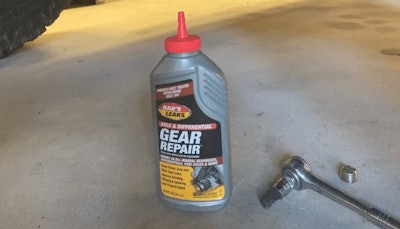 Bar's Leaks has introduced its Gear Repair treatment additive designed to extend differential/gear system life by stopping leaks, reducing noise and improving gear performance in automotive, heavy duty, agricultural, marine and industrial gear oils.
Bar's Leaks Gear Repair (P/N 1816) is formulated to revitalize the gear fluid with a proprietary blend of additives. The formula's seal conditioner protects and reconditions seals, while extreme pressure anti-wear agents provide metal-to-metal wear protection to reduce noise and gear temperatures.
Bar's Leaks Gear Repair works in all manual gearboxes, differentials and limited-slip axles. The company says it is safe to use on differential axles (limited slip, posi, open, electric), gears (hypoid, spider, worm, rack), transfer case (AWD, 4WD, gear oil, ATF), manual standard transmission (gear oil, engine oil, ATF), hubs and marine applications. Bar's Leaks Gear Repair can be mixed with all synthetic and conventional petroleum GL-4, GL-5, MT-1 gear oil grades, including 75W-90, 80W-90, 75W-140, 85W-140 and all others.