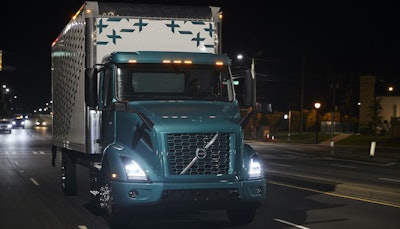 Volvo Trucks North America made news Thursday with the introduction of its Volvo VNR electric truck — the company's formal introduction and sales start in North America's Class 8 zero-tailpipe emission, battery-electric vehicle market.
Scheduled to enter production at the company's Dublin, Va., plant in early 2021, the Volvo VNR Electric truck marks "a significant step forward for electromobility in an industry that we are committed to leading as it undergoes rapid, significant change," says Volvo Trucks North America President Peter Voorhoeve. "Volvo Trucks believes and invests in sustainable electromobility. Our deep understanding of the transportation ecosystem — the technology, infrastructure and applications in the trucking industry — have enabled us to deliver a solution that is both advanced yet easy to own and operate."
Voorhoeve adds, "In launching the VNR Electric, we're answering a very real need from fleet customers across North America — to not just deliver a road-tested, battery-electric truck, but to provide them with solutions for the entire life-cycle of the vehicle."
Volvo says its new VNR Electric offers the same state-of-the-art agility and visibility as the highly successful Volvo VNR regional-haul model, and is designed for customer applications and driving cycles with local and regional distribution ranges, including food and beverage and pick-up and delivery routes.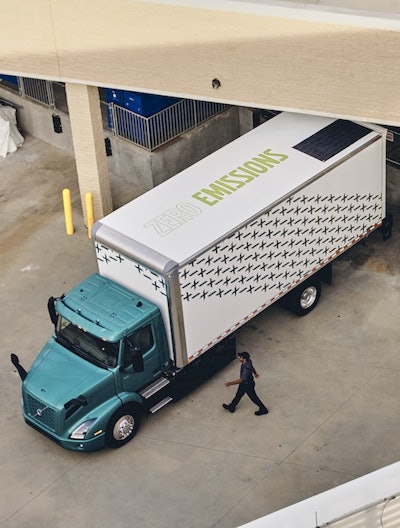 Featuring 264-kWh lithium-ion batteries, which charge up to 80 percent within 70 minutes, the VNR Electric has a operating range of up to 150 miles based on the truck's configuration. Volvo adds the electric driveline is a fully integrated, Volvo proprietary solution, rated at 455 horsepower and generating up to 4,051 lb.-ft. of torque. The VNR Electric also features a two-speed Volvo I-Shift transmission that delivers smooth and efficient acceleration with excellent startability and low-speed maneuverability.
The Volvo VNR Electric is initially offered in three configurations:
Single-axle straight truck with a gross vehicle weight rating of 33,200 lbs.
Two tractor configurations: 4×2 with a 66,000-lb. gross combination weight rating (GCWR) and 6×2 with an up-to 82,000-lb. GCWR in specific applications.
Additionally, Volvo says the VNR Electric includes Volvo Trucks' full uptime promise, with best-in-class onboard telematics including Remote Diagnostics and a new real-time battery monitoring service from the Volvo Trucks Uptime Center. Volvo Action Service also offers 24/7 access to highly trained uptime experts who can quickly manage service, schedule repairs and tackle any other issues that happen on the road.
"Before making the VNR Electric truck available to our customers, we thought through every aspect of electrification so they didn't have to. We have worked alongside our fleet customers to plan beyond the vehicle and have developed an entire support system, ensuring this vehicle meets their needs day-in and day-out," says Voorhoeve.
As part of Thursday's launch, Volvo Trucks North America also introduced its Volvo Gold Contract service offering, a special series of service and support finance and insurance solutions offered through Volvo Financial Services (VFS) available for ease of ownership throughout the life cycle of the new truck model.
The Volvo Gold Contract, Volvo Trucks' premier service offering for the VNR Electric, is a turn-key solution that allows customers to have operational peace of mind with electric vehicles. The company says the service offering includes scheduled and preventative maintenance, towing and vehicle repair including the vehicle's lithium-ion batteries and the complete electromobility system, to ensure peak vehicle uptime, performance and productivity.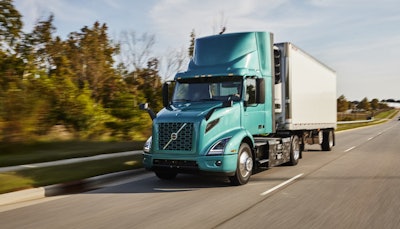 The Volvo Gold Contract also includes the full Uptime Services bundle from Volvo Trucks that customers are already familiar with, which has been enhanced for the Volvo VNR Electric to include a new battery monitoring service that further supports customer uptime and peak operating conditions. Customers will also receive Volvo's trusted Remote Diagnostics, Volvo Action Service and ASIST via the Volvo Trucks Uptime Center, which offers 24/7 customer support, the company says.
VFS also offers flexible and competitive financing and leasing options for the new Volvo VNR Electric model and, for the first time, is offering financing solutions for the charging stations needed to support the trucks.
Did you miss our 2020 virtual Successful Dealer Award event?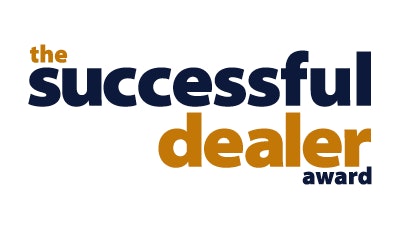 That's okay! We archived it! If you'd still like to know more about this year's finalists and what makes them tick, you can access a recording of our recent Successful Dealer Award presentation here. Sponsored by Interstate Billing, National Truck Protection, Premium 2000 and TopMark Funding.
Because access to on-site charging is such an important consideration for customers transitioning to electric vehicles, VFS says it is committed to bringing multiple financing solutions for the installation of charging stations, along with the ability to bundle the VNR Electric truck payment with the monthly payment for the Volvo Gold Contract from Volvo Trucks. VFS also is offering dealer financing options, including floorplan for stock or pre-sold units, along with financing solutions for on-site charging stations, and access to insurance solutions for the VNR Electric in select U.S. markets via third-party licensed agents.
"VFS financing solutions cover the entire user experience, providing our customers with complete confidence as they integrate the Volvo VNR Electric into their fleet operations. By combining the capital for the truck purchase, charging stations and the full range of service and support into one package, VFS is making it easy to accelerate the transition to electromobility. And by supporting our dealer network with similar financing options, we have the entire ecosystem supported from end to end," says Patrick Shannon, president, VFS, Region North America.
And with the protection of the Volvo Gold Contract, Voorhoeve says customers have the full support of the authorized Volvo Trucks dealer network by way of certified Volvo Trucks technicians using Volvo Trucks genuine parts and service procedures. This enables customers to focus on their business and have the confidence their vehicles are in expert hands for maximum uptime and productivity.
"By providing our customers with the total package of not only the high-quality and reliable VNR Electric truck itself, but the consultative experience starting with the financing of the product with VFS, the full support and coverage of the Volvo Gold Contract, the wide coverage of the Volvo Trucks North America dealer network and our Volvo Trucks Uptime Services throughout the full life cycle of the vehicle, customers can feel confident and secure embarking on their electromobility journey with us," he says.
And the VNR Electric does play a pivotal role in helping Volvo Trucks' North American fleet customers meaningfully reduce emissions and achieve their ambitious sustainability goals.
"Across the globe, Volvo Trucks is leading the electrification race," says Roger Alm, president, Volvo Truck Corporation. "By introducing a robust lineup of all-electric commercial vehicles in both Europe and North America, we are delivering on our promise to drive this industry toward a sustainable future."
He adds, "Volvo doesn't view transportation electrification as a disruption of the existing market — we see it as an opportunity to invent something completely new and transformational. We are proud to collaborate with our partners around the world to bring this vision to life, and it is especially impressive to see what is being done together with our partners in North America."
The VNR Electric has already been certified by the U.S. Environmental Protection Agency and California Air Resources Board, enabling the vehicle to be commercially sold in all 50 states of the U.S.
"For us, [the VNR Electric] is more than just the truck," says Voorhoeve. "The transition to electromobility requires a tight stakeholder collaboration. We are committed to working closely with our customers and dealers, providing end-to-end consultative support, matching available incentives, understanding the required charging infrastructure and matching the right model and specifications to their operational needs.
"As we hit this landmark milestone, moving forward with our pioneering customers toward a shared vision of the future, Volvo Trucks is making electromobility accessible, efficient and operationally viable. The future is here and we are proud to bring this new and very real solution to the North American commercial trucking industry today."