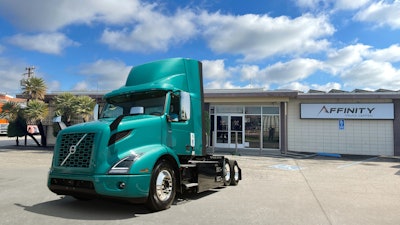 Affinity Truck Center's Fresno, Calif., location has been named a Certified Electric Vehicle Dealer by Volvo Trucks North America and Mack Trucks. The designation signifies the facility is ready to support customers interested in adding the Volvo VNR Electric and Mack LR Electric to their operations.
The facility is the first Volvo and Mack Certified EV Dealer in California's Central Valley.
"Our sales force is excited to work with our Fresno-area customers that are considering investing in any of the VNR Electric model configurations and are fully trained to help to achieve a seamless integration of battery-electric trucks into their fleet," says Kim Mesfin, president, Affinity Truck Center.
She adds the company also is "excited to become EV-certified to better serve and support our Mack customers. We look forward to supporting refuse customers with their electrification efforts."
To achieve EV certification, dealers are required to meet numerous safety, charging, infrastructure, tooling and training requirements. Updates to the facility also need to be made. Affinity Truck Center met routinely with its OEM teams during the certification process to ensure their dealership met all the standards at its Fresno site.
[RELATED: Three truck makers commit to EV charging joint venture]
Affinity Truck Center offers 16 service bays in Fresno, two of which are in a separate onsite building to EVs. The dealership employs 95 people and has 27 technicians, 11 of which are master technicians. Three technicians are EV-certified to work on electric vehicles. The 60,450 sq.-ft., dealership offers $2 million in parts inventory.
Affinity Truck Center's Fresno service team also completed robust training courses to safely maintain and repair electric drivetrains and components, as well as invested in the necessary diagnostic tools. The dealership also began installation of heavy-duty-capable charging infrastructure to enable customers to charge at the dealership. The sales team is preparing to consult with Central Valley fleets who are considering investing in electric trucks.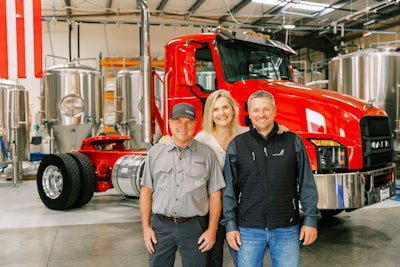 "Mack Trucks commends Affinity Truck Center both for becoming a Certified Electric Vehicle Dealer and its ongoing support of Mack and our customers," says Jonathan Randall, Mack Trucks senior vice president of sales and commercial operations. "This investment by Affinity extends the service and support network for our LR Electric customers as more of them begin to adopt electric vehicles into their fleets."
"The introduction of the Volvo VNR Electric, is only one part of what's needed for large-scale electrification to succeed. Another key component is a well-trained dealer support system, and Volvo Trucks is proud to welcome Affinity Truck Center and their staff's expertise to our growing list of Certified EV Dealers," adds Peter Voorhoeve, president, Volvo Trucks North America. "In collaboration with Affinity Truck Center, we look forward to working with customers throughout Central California to achieve their zero-tailpipe emission transportation goals."
The Affinity Truck Center Fresno facility is open 7 a.m. to 11 p.m., Monday through Friday and 8 a.m. to 4:30 p.m., Saturday. Roadside assistance is available 24/7.